Greg Wells & Andrew Scheps
Masterclass
Aug 5th 2019
Baggpipe Studio, Stockholm, Sweden

50

40

streaming seats available

Request more info : courses@puremix.net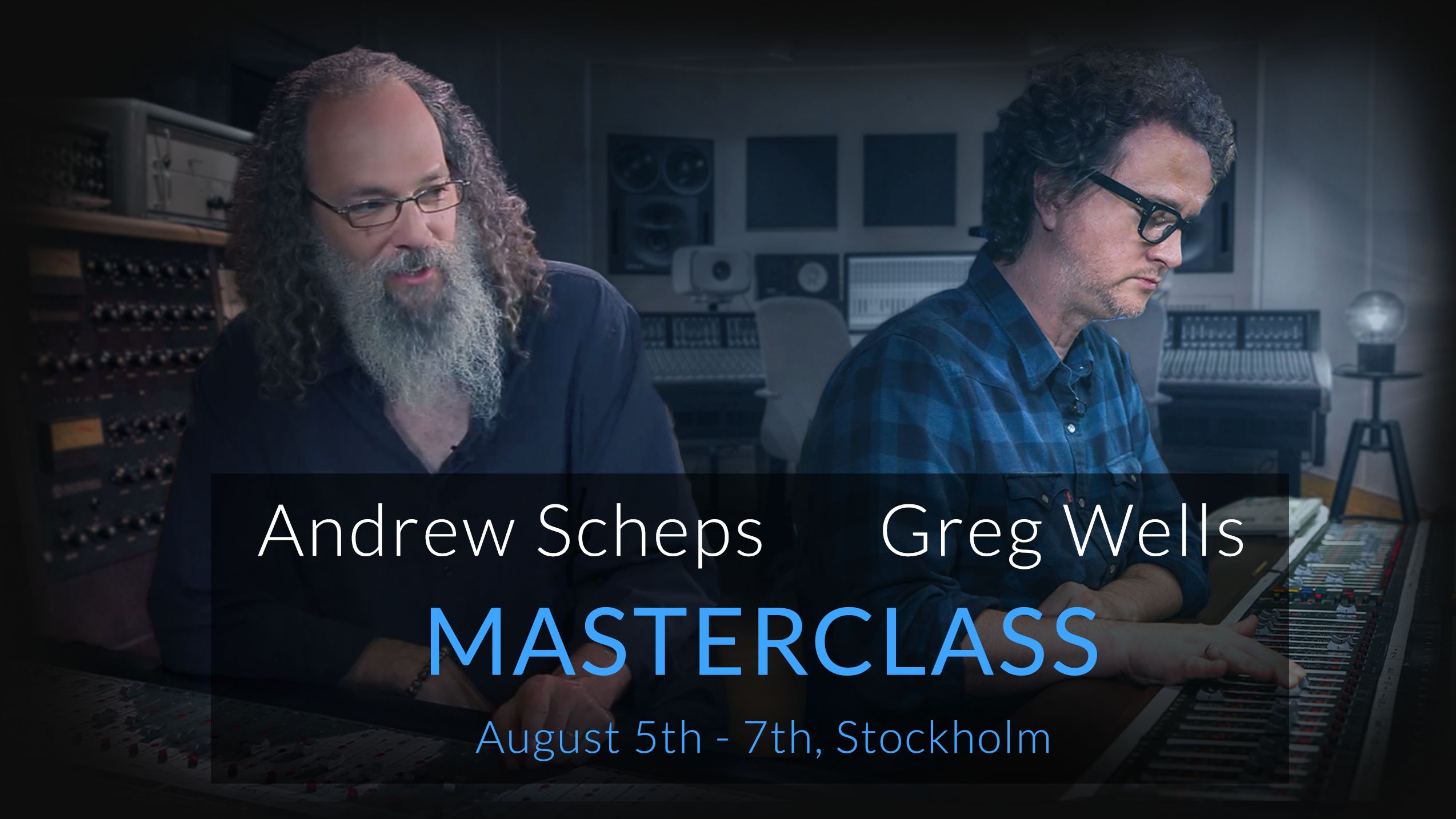 What is Happening?
Join us August 5th - 7th at Baggpipe Studios in Stockholm, Sweden to learn from two of the world's greatest engineers, mixers, and producers Andrew Scheps and Greg Wells.

Over the course of 3-days, you will learn how Greg and Andrew approach topics like Songwriting, Producing, Tracking, Mixing and any other aspect of the process you can think of.

This is an interactive workshop where Andrew and Greg will answer your questions, listen to and critique your songs, productions, and mixes as well as demonstrate their techniques on world-famous songs from their discographies for on-site attendees.

There will be great music, exquisite food, a gorgeous studio, and of course, Greg Wells and Andrew Scheps!
Learn Mixing and Music Production from two of the world's greatest engineers.
The Andrew Scheps Side

Andrew will focus on mixing and share his mixing philosophy, workflow as well as mixing tips and tricks in order to get the sound you have been hearing on the radio for decades and achieve the sounds you are looking for.

Andrew will focus on mixing in-the-box and will open hit sessions for your to play with and get your hands on as well as give feedback on your personal mixes

The Greg Wells Side

Greg will illuminate the art of producing hit records from pre-production and songwriting through recording and mixing.

Greg will focus on hybrid mixing, production philosophy and will give you feedback on your personal productions.
Wanna come? Wanna stream?
On-site tickets ($1799)

On-site attendees will benefit from the full experience. They will be able to ask as many questions as they want, meet the mentors in person, enjoy personal feedback, hang and have drinks with everybody (yes that matters).

They will also receive a Certificate of Completion for this Masterclass signed by Greg and Andrew.

Streaming tickets ($499)

Streaming attendees will be able to watch the masterclass from the comfort of their home.

Interactions
On the afternoon of the day 1 and the mornings of day 2 and 3, pureMix's own Mark Abrams will be on site and will select the most interesting/not already answered questions from the streaming attendees and be their voice on-site.Limitations
You will not benefit from the one-on-one feedback sessions. Due to copyright reasons you will not get to experience Greg and Andrew showing their famous production sessions on the afternoons of day 2 and 3. Also you don't get to have drinks or hang with the mentors obviously.

But you get to stay home and be in on an exceptional event for an unprecedented price.
+Bonus #1: Watch it after!
All attendees both on-site and streaming will have exclusive access to a video archive of the event up to 2 months after the event.
+Bonus #2: Get the session!
All attendees will leave with a copy of the session that both Greg and Andrew have worked on during the event.
+Bonus #3: FREE plug-in!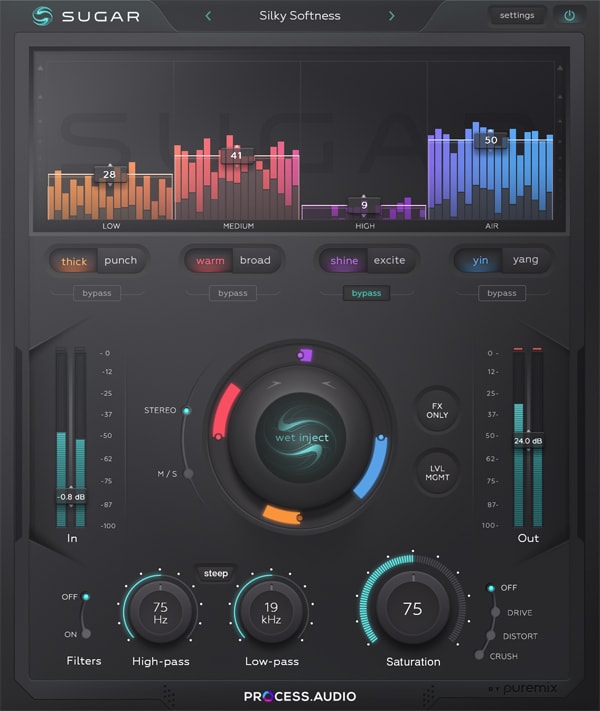 All attendees will be offerred a free perpetual license of Sugar ($149 worth), the first audio plug-in created by PROCESS.AUDIO.
3-Day Course Schedule
Day 1 - Andrew & Greg talk
10am - 1pm


Central European Time


+
Knowledge base


For 4 hours, Greg and Andrew will jointly cover what you always wanted to know about the art of making records.

Topics: Production techniques, mixing philosophy, project / client management, in-the-box VS hybrid mixing setups, recording process (microphone & preamp choices and cue mixing), managing a band in the studio, backup srategy, stories from the studio.

2pm- 5pm


Central European Time


+
Q&A


On-site and streaming attendees will be able to ask Greg & Andrew all their questions.
On day 2 and 3, on-site attendees will be split in two groups. Each group will spend day 2 with Andrew or Greg, then swap on day 3.
Mixing w/ Andrew

10am - 1pm


Central European Time


+
Mixing techniques


Andrew will talk extensively about his personal mixing techniques. He will run you through his mixing template and demonstrate how to import it into the session of a song he has never heard before. This will be a true, real life, mixing-from-scratch tutorial.

All attendees (on-site & streaming) will receive the same session Andrew will be working on, to be able to practice and apply the principles learned during the masterclass in the confort of their own homes.

2pm- 5pm


Central European Time



Behind the curtains and one-on-ones


Andrew will open famous sessions you've all heard on the radio (names withheld). On-site attendees will get a chance to get their hands on them and give it a go.

Andrew will listen to your mixes and give on-site attendees personal feedback on their productions.

Production w/ Greg

10am - 1pm


Central European Time


+
Production techniques


Greg will extensively demonstrate modern production techniques and mixing techniques using never-before-heard sessions that Andrew is mixing from scratch. The focus will be on how production affects mixing and vice-versa.

2pm- 5pm


Central European Time



One-on-ones


Greg will listen to and give feedback on onsite attendees productions. Mixing will be discussed but production will be the focus. This is your chance to have one of the best producers in the world listen to your music and help you enhance it before it is released.
Please note: Due to copyright issues, streaming attendees will not be able to be included in the afternoon sessions and day 2 and 3.
Frequently Asked Questions
How does the application process work?

If you are purchasing on-site tickets, a pureMix member will review your application and let you know if is accepted. You will then be able to purchase your seat and make travel arrangements. If you are interested in the streaming aspect, you can purchase it directly and sit tight until the class starts!

What are the differences between on-site and streaming tickets?

On-site attendees will benefit from the full experience. They will be able to ask as many questions as they want, meet the mentors in person, enjoy personal feedback and have drinks with everybody (yes that matters).

Streaming attendees will be able to watch the masterclass from the comfort of their home. On the afternoon of the Day 1, pureMix's own Mark Abrams will be on site and will select the most interesting/not already answered questions from the streaming attendees and be their voice on-site. The limitations of the streaming seat are that you will not benefit from the one-on-one feedback sessions and will not get to experience Greg and Andrew showing their famous production sessions on the afternoons of day 2 and day 3 (Streaming will be turned off during those for copyright reasons). Also no drinks or hang with the mentors obviously. But you get to stay home and be in on an exceptional event for an unprecedented price.

When does the class start and end exactly? The class is taking place in Stockholm, Sweden, Europe. That's EU time! Please make sure you set your alarm clocks to the appropriate time zone. Each day starts at 10am EU time (that's 4am EST time).

How long will I be able to watch the stream for?

This masterclass is LIVE. Being able to participate during the sessions, asking questions and giving feedback is half the value of these workshops. But in case you miss anything, both on-site and streaming attendees will be able to watch the streams as many time as they like for up to 2 months after the class ends.

What about accommodation and food?

Accommodation is not included for those 3 days, but lunch is! Stockholm is a fabulous moderni city with a plethora of hotels and airbnbs for your sleeping enjoyment.

Still have questions?

Send us an email at masterclass@puremix.net

Palandergatan 33, 121 37, Johanneshov, Sweden