pureMix
Live

-Apollo Artist Session Mixing Livestream With Fab Dupont
Please Login and Watch Daniel Sanint's Live Stream
Time To Login!
Thursday, August 29th @ 1pm EDT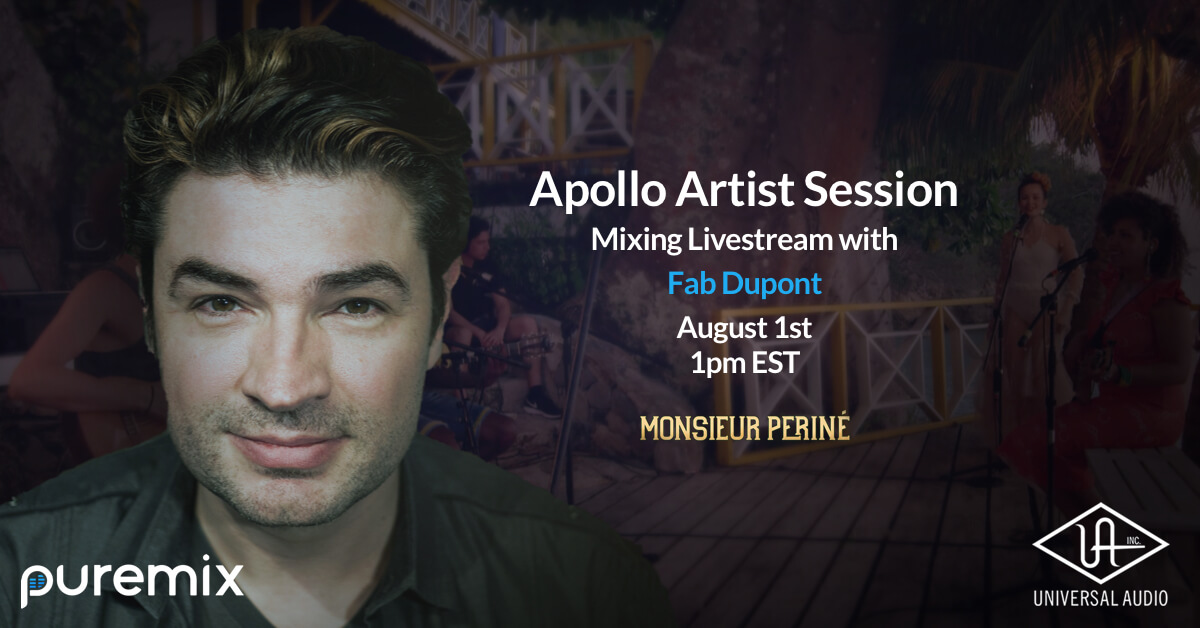 Producer / Mixer Fab Dupont
Ask Your Questions
This is a special opportunity to ask Award Winning Producer, Engineer, and Mixer, Fab Dupont ANYTHING!

In Universal Audio's latest Apollo Artist Session, multi-award-winning producer/engineer, Fab Dupont, captured a live performance of Monsieur Periné's hit single "Encanto Tropical" - The track that helped garner the group a 2018 Latin Grammy Nomination.

Using an Apollo x8p, Apollo Twin, and a host of UAD plug-ins Fab and engineer, Daniel Sanint, tracked the entire song live, from a gorgeous balcony overlooking the Carribean sea.

To wrap up our latest mixing contest featuring "Encanto Tropical" by Monsieur Periné, Fab Dupont will open up his mixing session and answer your questions about the mix of "Encanto Tropical", the challenges of recording a band outdoors with a giant white noise machine behind them (the ocean!), as well as announcing the winners of the mixing contest!

Ask questions and get answers.

This live mix session will be streaming live to the public.

Watch the Apollo Artist Session, then submit your questions here or come with them in hand on Thursday, August 1st at 1 pm EDT.

See you then!
- or -
Ask Your Questions on Facebook