pureMix
Live

-Brian Moncarz / Our Lady Peace Live Q&A
Please Login and Watch Brian's Live Stream
Time To Login!
Thursday, June 27th @ 1pm EST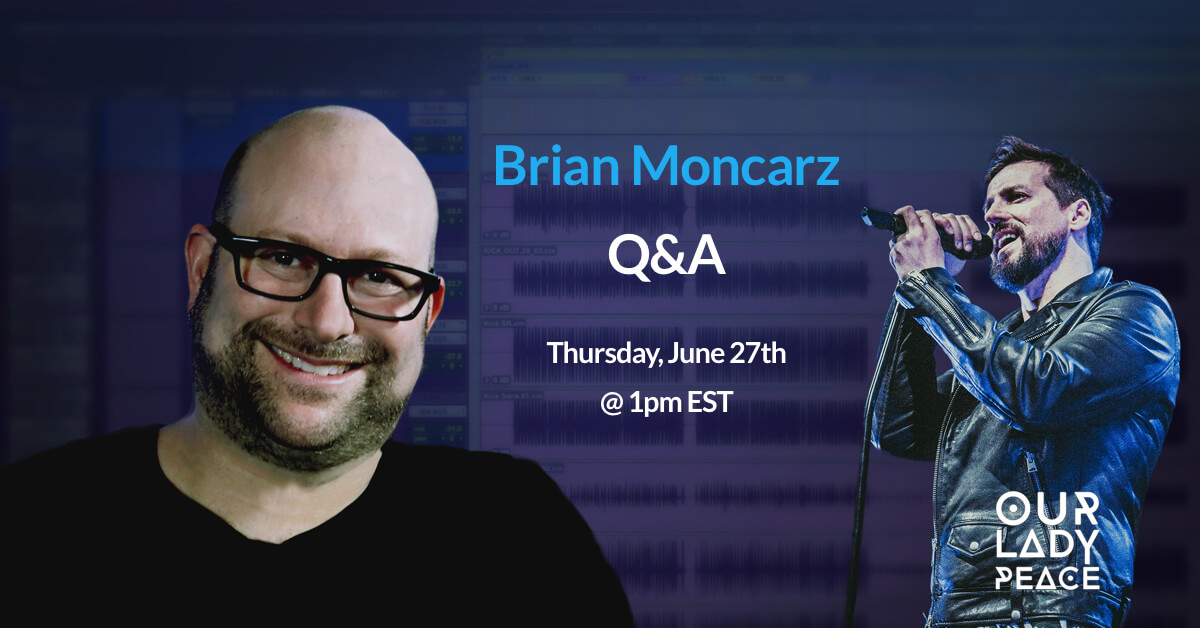 Producer / Mixer Brian Moncarz and the band Our Lady Peace
Ask Your Questions
This is a special opportunity to ask Award Winning Producer, Engineer, and Mixer, Brian Moncarz and the hit band Our Lady Peace ANYTHING!

Brian Moncarz has earned a reputation for himself as a go to engineer, mixer and producer for bands such as The Tea Party, Our Lady Peace, The Trews, Circa Survive (which landed a Billboard Modern Rock/ Alternative #1 hit) Fantastic Negrito, Ian Moore, Neverending White Lights featuring Hot Hot Heat, Bleeker, Moneen, The Proud Sons and MANY more.

Our Lady Peace is a Canadian rock band formed in Toronto, Ontario in 1992. The band has sold several million albums worldwide, won four Juno Awards, and won ten MuchMusic Video Awards — the most MMVAs ever awarded to any artist or group.Our Lady Peace is one of Canada's most popular bands and is also one of the few Canadian rock acts that managed to achieve success in both the 1990s and 2000s.

To wrap up our latest mixing contest featuring "Drop Me In The Water" by Our Lady Peace, we will be asking Brian Moncarz your questions about the mix of "Drop Me In The Water", his career, working with the wide range of artists in his discography, announcing the winners of the mixing contest and discussing their mixes we well as anything else you can come up with!

ALSO, a pureMix.net first, the members of Our Lady Peace will be joining the live stream to discuss the record making process from the other side of the glass.

Ask questions and get answers.

This Q&A session will be streaming live to the public.

Submit your questions here or come with your questions in hand on Thursday, June 27th at 1 pm EST.
- or -
Ask Your Questions on Facebook