pureMix
Live

-Darrell Thorp Q&A - Stephan Petrocca Mix Contest Wrapup
Please Login and Watch Darrell's Live Stream
Time To Login!
Thursday, May 17th @ 2pm EST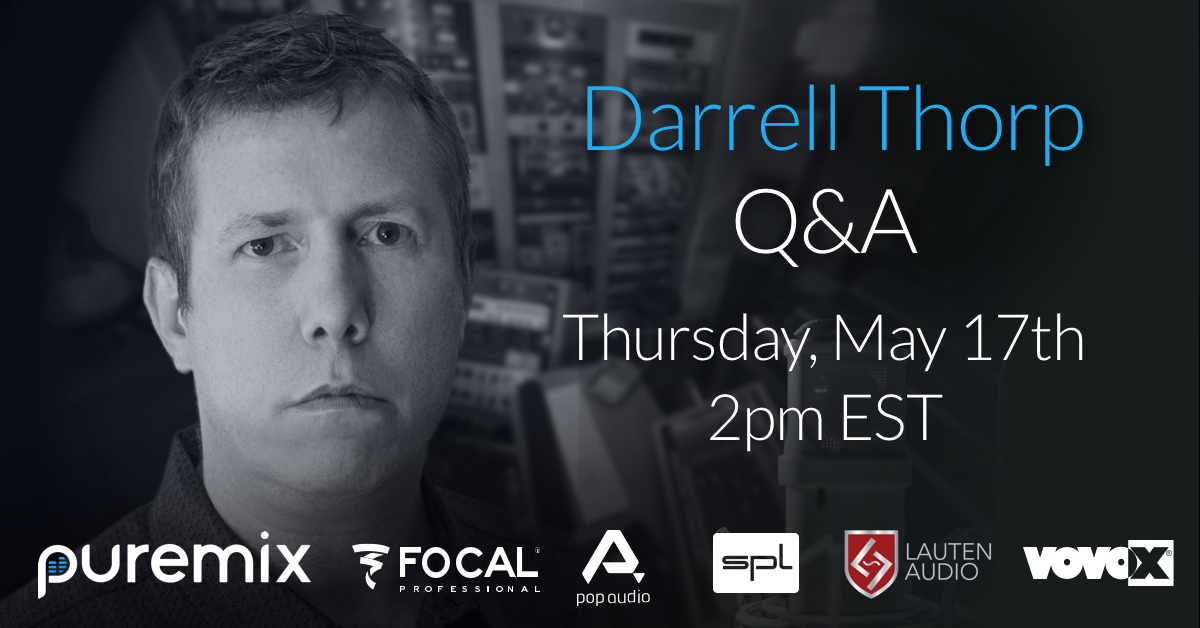 Darrell Thorp the Stephan Petrocca Mix
Ask Your Questions
pureMix Pro Members have a special opportunity to ask Grammy Award-winning producer / engineer Darrell Thorp ANYTHING!

If you are pureMix Pro or Free Member, chances are that you submitted a mix during our previous Mixing Contest Featuring Stephan Petrocca. Wasn't easy was it? The song was recorded with only a few microphones, a 2 channel interface in some less than ideal locations!

This mix surely had you inspired and questioning how to deal with the tracks you were given... now is the time to ask your mentor how he did it!

Ask questions and get answers.

pureMix.live is the place to learn from the top mixing engineers in the world, un-edited and un-scripted.

This Q&A session will be streaming live and will be available to all pureMix Free and Pro Members.

Be sure to check out all of Darrell's tutorials and then come ready with questions about mixing, mastering, production, business, clients, studios, gear, hats, etc.
Discussion Topics
1) First, Darrell will talk about what he heard in the three winning mixes from this mixing competition. It is the perfect opportunity to understand what a grammy engineers hears and how he fixes crafts the tracks to fit into a perfect mix.
If you had not had the chance to listen to them , here are the four winning mixes:
First Place: StemiroCongratulations on winning the entire rig used to record the song, which consists of an SPL Crimon Interface, Lauten Audio Series Black 320, 220, and 2 sets of Focal Listen Pro Headphones PLUS a Lauten Audio backpack and skateboard.
Second Place: song horseCongratulations on winning a Lauten Audio Series Black 320.
Third Place: elizeu
Congratulations on winning a Lauten Audio Series Black 220.
Forth Place: whitmoreCongratulations on winning a pair of Focal Spirit Pro Headphones.
- or -
Ask Your Questions on Facebook