pureMix
Live

-Dave Derr Inventor Of The Distressor - Q&A
Please Login and Watch Dave's Live Stream
Time To Login!
Thursday, February 21st @ 1pm EST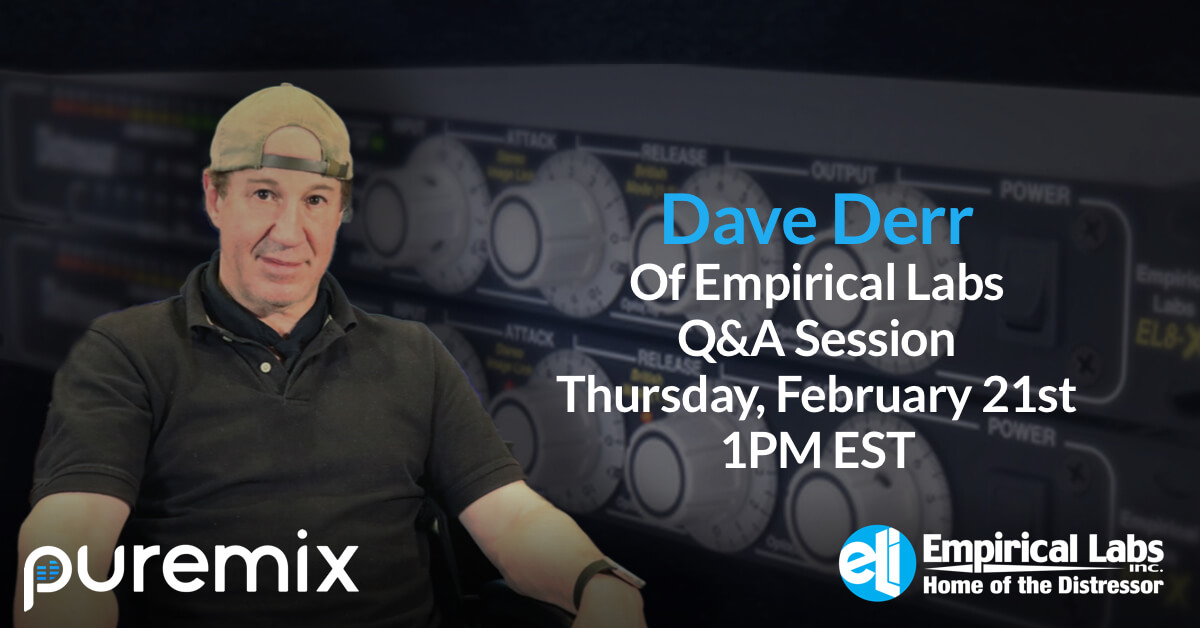 Award Winning Gear Designer, Dave Derr
Ask Your Questions
This is a special opportunity to ask engineer and gear designer, Dave Derr, ANYTHING!

Dave Derr is famously known as the father of the Empirical Labs Distressor, which is one of the most popular pieces of analog hardware in history, and one could argue that the only piece of gear as common in recording studios across the world is a coffee machine. What many people do not know is that Dave has also had his hand in several other famous products like the H3000, Fatso and more. This is your chance to find out what goes on in the mind of a staple in

the hardware and gear design world and ask him ANYTHING! (Including requests for a rack-mounted coffee machine.)

We will also be discussing the Arouser plugin and the process of converting the incredible Distressor hardware into the digital plugin domain.

Ask questions and get answers.

This Q&A session will be streaming live and will be available to the public.

Submit your questions here or come with your questions in hand this Thursday, February 21st at 1 pm EST.

Watch the Empirical Labs Distressor's induction to the TEC Hall Of Fame: Watch on YouTube.
- or -
Ask Your Questions on Facebook