pureMix
Live

-Tony Maserati Live Q&A
Thursday, June 4th @ 2:30 pm EST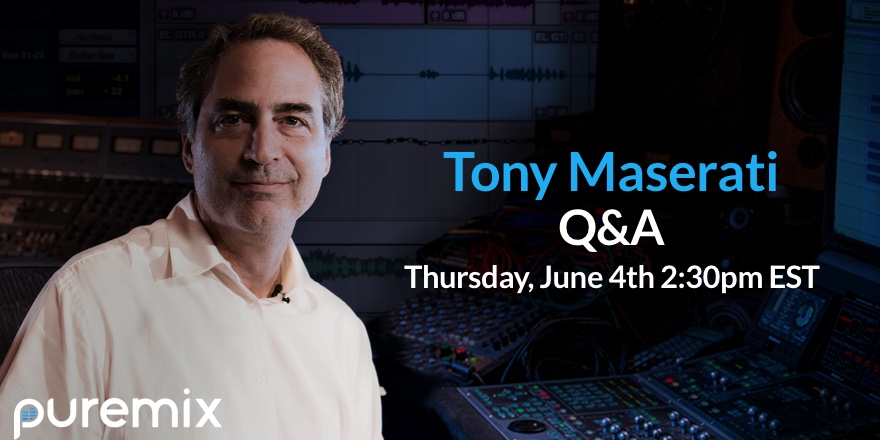 Multi Award-Winning Producer, Engineer, and Mixer, Tony Maserati
Answers Your Questions
This is a special opportunity to ask Grammy Award Winning Producer, Engineer, and Mixer, Tony Maserati ANYTHING!

Tony Maserati lead the development of the New York R&B and hip-hop scene in the 1990s, shaping the sound for Mary J. Blige, Notorious B.I.G. and Puff Daddy.

With streams in the billions and works with artists such as Beyoncé, Selena Gomez, Adam Lambert, Ariana Grande, and Demi Lovato, Tony Maserati resides among the most successful Mixing Audio engineers in the world.

To date, Tony has been honored with over 10 Grammy Nominations. 4 of which were for Best Engineered Album.

To celebrate the release of our latest video, Tony Maserati Mixing "I'm Yours" By Jason Mraz, we will be asking Tony Maserati your questions about the mix of "I'm Yours", his career, working with the wide range of artists in his discography, and anything else you can come up with!

Ask questions and get answers.

This Q&A session will be streaming live to the public.

Come with your questions in hand this Thursday, June 4th at 2:30 pm EST.

See you then!
- or -
Ask Your Questions on Facebook