Grammy winner Andrew Scheps has worked with some of the biggest artists in world including Green Day, Red Hot Chili Peppers, Adele.
These days Andrew works 100% in the box but before he moved permanently inside Pro Tools, pureMix documented Andrew's mixing process both analog and digital! Watch and learn as he mixes Ziggy Marley's "Fly Rasta" across his two Neve consoles and then mixes it again all inside of Pro Tools.
Learn techniques and tricks that Andrew replicates in both the analog and digital domain and apply the best of both worlds to your mixes!
Check Out
Watch unlimited pureMix videos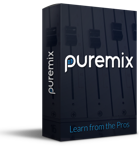 Join the pureMix community of well informed engineers for as low as $24.49/month.
Get full access to all pureMix videos and more.
More details
Quantity Discount:
The more videos you add to your cart, the bigger the quantity discount:
2 videos : 5% off
3 videos : 10% off
4 videos : 15% off
+5 videos : 20% off
Quantity Discount :
0 %
Subtotal :
$ 82.00
Rebate :
$ -41.00