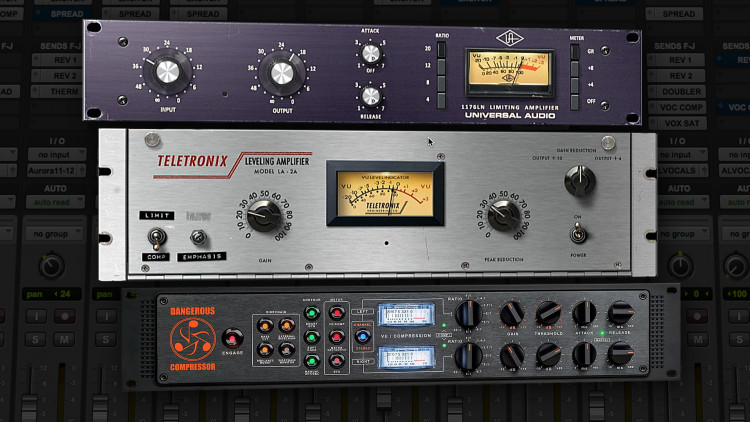 14min
(96)
Dive Deeper Into Compression
Are you tired of singers who want you to keep adding more compression to their vocals?
Did you (or your client) hear a nasty rumor that ALL vocals are supposed to be slamming the meter on the compressor?
Rather than trying to accomplish all your "squishing" with just one compressor Fab Dupont shows you how to use multiple compressors, in a more civilized manner, to get a great compressed tone and level without such a smothered sound.
From peak limiting to gently compressing, Fab goes deep into the art of compression. He shows you how to compress vocals using both the classic holy chain of vocal compression (1176 into a LA-2A) and a powerful modern day compressor (the Dangerous Music Compressor).
Then Fab follows his ear and turns a compressor into a de-esser using the compressor's sidechain input.
Be sure to also check out Transparent Vocal Compression
This video is part of our ultimate compression bundle. Check it out!
Dangerous Music Compressor
Universal Audio UAD 1176LN
Universal Audio UAD LA-2A Silver
Pro Memembership
Watch all videos for$24.99 / month
Fab Dupont
Fab Dupont is an award-winning NYC based record producer, mixing/mastering engineer and co-founder of pureMix.net.
Fab has been playing, writing, producing and mixing music both live and in studios all over the world. He's worked in cities like Paris, Boston, Brussels, Stockholm, London and New York just to name a few.
He has his own studio called FLUX Studios in the East Village of New York City.
Fab has received many accolades around the world, including wins at the Victoires de la Musique, South African Music awards, Pan African Music Awards, US independent music awards. He also has received Latin Grammy nominations and has worked on many Latin Grammy and Grammy-nominated albums.
Credits
David Crosby
Queen Latifah
Jennifer Lopez
Mark Ronson
Les Nubians
Toots And The Maytals