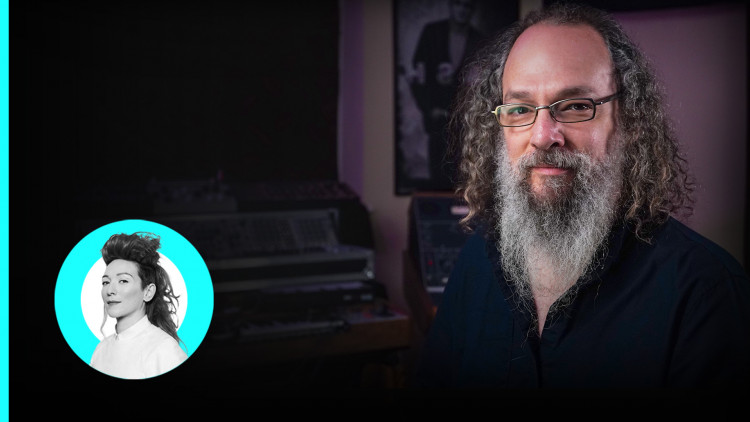 01h 45min
(18)
Andrew Scheps is behind some of the recent years' most energetic rock mixes. He is a first-call mixer when artists want an intense and powerful mix with credits like Metallica, Red Hot Chili Peppers, Green Day, Jay Z, Michael Jackson, and countless others.
Energetic and powerful does not just mean loud guitars and blistering synths, though; Andrew also has extreme versatily and knows how to connect listeners emotionally with dynamics, detail, and space.
In this puremix.net exclusive, Andrew opens up the multitrack for the gorgeous single "Another Chance" by My Brightest Diamond. He explains his history with the artist, every mix decision, plugin, and treatment on the mix as he deconstructs the production track by track.
See how Andrew Scheps:
Gives the backstory of his relationship with Shara Nova, aka My Brightest Diamond and explains how having to pass on mixing a record for her was one of the final nails in the coffin for him to decide to mix in the box
Demonstrates how he pushes the drums to the back of the mix and fades them into oblivion as the song ends
Uses the bleed on the tom mics to contribute to the overall tone of the snare drum
Breaks down the Poly Fusion bass synth and explains how the thump button of Scheps Omnichannel originated with the Helios EQ
Explains how he used delay to send the ending guitars into the ether instead of doing a volume fade
Shows each piece of the keyboard arrangement and how the sounds are used to create scene changes between sections of the song
Discusses every piece of the lead vocal signal chain, the multiple reverbs, delay, and the thought process behind the second, out of phase microphone blended into the track
Goes through each track of background vocals and explains his approach to the multiple layers, including parallel processes and shared vocal effects
Explains the Pultec -> LA2A -> Pultec chain
Demonstrates the Rear Buss and explains its contribution to the mix
Breaks down his mix bus chain and explains how he tweaked it for this particular song
Watch Andrew Scheps, mix "Another Chance" from My Brightest Diamond. Only on pureMix.net
Plug-ins
Altiverb 7
BBD Delay
Black Box Analog Designs HG-2
bx_digital v3
D-Verb
Dyn3 Compressor
Dyn3 Expander/Gate
EQ3 7 Band
Eventide T-Verb
Filter Bank F202 EQ
FabFilter Pro DS
FabFilter Pro MB
FabFilter Pro Q2
FabFilter Timeless 2
Mod Delay III
New Fangled Elevate
Phoenix II
R-Vox
Sound Toys EchoBoy
SoundToys Radiator
SPL Transient Designer Plus
UAD dbx 160
UAD Empirical Labs Fatso Jr
UAD Pultec EQP-1A
UAD UA 1176 AE
Valhalla Vintage Verb
Waves Aphex Vintage Exciter
Waves CLA-2A
Waves CLA-76
Waves Kramer HLS
Waves Meta Flanger
Waves Mondo Mod
Waves PuigTec EQP1A
Waves S1 Imager
Waves Scheps 73
Pro Memembership
Watch all videos for$24.99 / month
Andrew Scheps
Andrew Scheps is a music producer, mixing engineer and record label owner based in the United Kingdom. He has received Grammy Awards for Best Rock Album for his work on Red Hot Chili Peppers' Stadium Arcadium, Album Of The Year for Adele's 21, and also Best Reggae Album for Ziggy Marley's Fly Rasta.
Andrew started as a musician, but found that what he enjoyed most was working behind the scenes. This led him to study recording at the University of Miami. After graduating, he spent some time working for Synclavier, and then on the road with Stevie Wonder (as a keyboard tech) and Michael Jackson (mixing live sound). But he found his home in the studio, and he honed his craft working for producers such as Rob Cavallo, Don Was and Rick Rubin.
Andrew collaborated with Waves in order to create his own line of plug-ins which include the Scheps 73 EQ and the Scheps Parallel Particles.
Andrew is one of the best known mixing engineers in the world, well-known for his Rear Bus mixing techniques that he developed working on his 64 input Neve 8068 console and his love for distortion of any kind. If you are watching pureMix videos you will see that he managed to carry his analog sound signature over to a fully portable digital rig. These days, Andrew mixes completely In The Box as it allows him much greater flexibility and the ability to work on several project simultaneously.
Credits
Beyonce
Lana Del Rey
Red Hot Chili Peppers
U2
Michael Jackson
Green Day