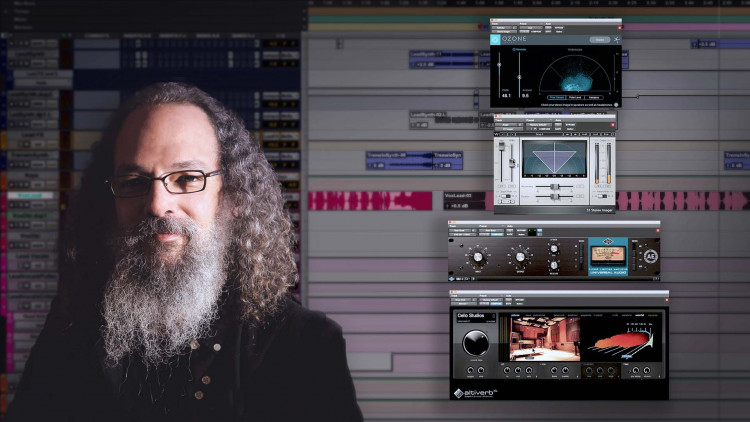 02h 38min
(23)
Andrew Scheps is back to mix a song he has never heard before from the Brooklyn-based duo, TMBOY, on camera, explaining every step of his process from setup to the final print of the mix.
In this pureMix.net exclusive, you'll sit next to Andrew Scheps as he discovers the song and each track in the session before applying his template and signature approach to crafting an exciting and energetic mix.
See how Andrew Scheps:
Preps the session for mixing by organizing the tracks, deleting dead space, assigning groups and VCAs, and applying his template
Explains his parallel drum buses
Gives a full tour of the Scheps Omnichannel
Adds sustain to the Bass Kalimba with a transient designer
Adds saturation and delay to the lead synth with a Sans Amp PSA-1 and an Echoboy
Automates volume boosts on drum fills and key moments of the song
Checks the rough mix to see the band's intention for the vocal treatment
Breaks down his vocal processing chains, including saturation, compression, parallel compression, and parallel eq
Explains his love for D-verb!
Discusses how he uses the Bass Shift on the Brainworx Digital V3 EQ to transfer energy from the low mids to the bottom of the track.
Tweaks the mix in headphones before printing the final version
Watch Andrew Scheps, mix "Moths" from Tmboy. Only on pureMix.net
Analog Design Black Box
Audio Ease Altiverb 7
BBD Delay
Brainworx bx_digital V3
D-Verb
Empirical Labs Fatso
Eventide Tverb
FabFilter Timeless2
FilterBank F202
H3000 Factory
H910 Dual Harmonizer
ML 4000
Native Instruments Transient Master
Newfangled Elevate
Orange Phaser
Ozone Imager
Phoenix II
Puigchild 670
SanSAmp PSA-1
Soundtoys Devil-Loc
Soundtoys PanMan
UAD 1176AE
UAD Pultec EQP-1A
Valhalla Plate
Waves Aphex Vintage Exiter
Waves CLA-2A
Waves CLA-76
Waves Pulgtec EQP1A
Waves Rvox
Waves S1 Imager
Waves Scheps Omni Channel
Waves VU Meter
iZotope Trash2
Pro Memembership
Watch all videos for$24.99 / month
Andrew Scheps
Andrew Scheps is a music producer, mixing engineer and record label owner based in the United Kingdom. He has received Grammy Awards for Best Rock Album for his work on Red Hot Chili Peppers' Stadium Arcadium, Album Of The Year for Adele's 21, and also Best Reggae Album for Ziggy Marley's Fly Rasta.
Andrew started as a musician, but found that what he enjoyed most was working behind the scenes. This led him to study recording at the University of Miami. After graduating, he spent some time working for Synclavier, and then on the road with Stevie Wonder (as a keyboard tech) and Michael Jackson (mixing live sound). But he found his home in the studio, and he honed his craft working for producers such as Rob Cavallo, Don Was and Rick Rubin.
Andrew collaborated with Waves in order to create his own line of plug-ins which include the Scheps 73 EQ and the Scheps Parallel Particles.
Andrew is one of the best known mixing engineers in the world, well-known for his Rear Bus mixing techniques that he developed working on his 64 input Neve 8068 console and his love for distortion of any kind. If you are watching pureMix videos you will see that he managed to carry his analog sound signature over to a fully portable digital rig. These days, Andrew mixes completely In The Box as it allows him much greater flexibility and the ability to work on several project simultaneously.
Credits
Beyonce
Lana Del Rey
Red Hot Chili Peppers
U2
Michael Jackson
Green Day