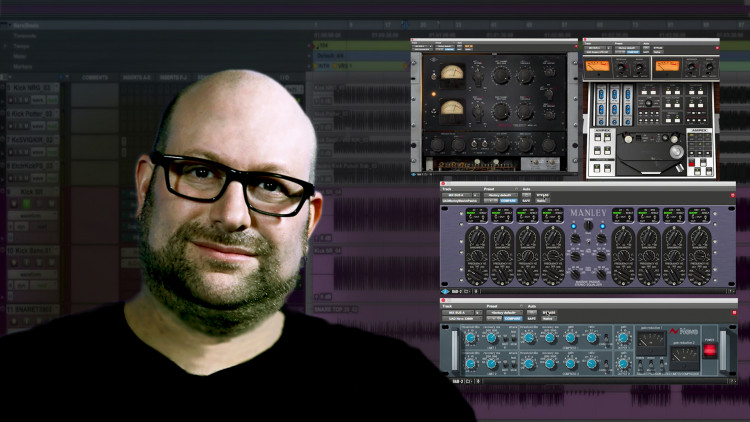 51min
(36)
In this pureMix.net Exclusive, Award Winning Engineer, Brian Moncarz explains his mixing template and workflow for organizing sessions and importing his carefully selected creative array of plugins.
Throughout this video, Brian explains how he transitioned from an all analog workflow to being nearly entirely in the box, each track in detail, why he chooses to import his plugins and routing, as well as how he uses creative distortion to sculpt records with his signature sound.
See how Brian:
Imports his template into sessions he receives to optimize his workflow so that he can be as creative as possible as quickly as possible
Chooses between his personally tuned "Mix Bus A" and "Mix Bus B" chains
Uses the UA Fairchild 660 and Soundtoys Radiator to add color to his mix bus
Approaches tape saturation, mix bus compression and mix bus EQ
Explains his multiple parallel processes in detail
Sets up his vocal processing
After you have seen how Brian uses his template, download it for yourself and make it your own.
Watch Brian Moncarz explain his personal mixing template, only on puremix.net
Burl B2 Bomber ADC
Audio Ease -Altiverb 7
Avid - D3 Expander/Gate
Avid - EQ3
Avid - ModDelay 3
Avid - SansAmp
Boz Digital Labs - Pus 10db Compressor
Crane Song - Phoenix II
Eventide - Omnipressor
FabFilter - Pro-L2
FabFilter - Saturn
GHZ - Vulf Compressor 3
Overloud - Gem Dopamine
Oxford - Inflator
PSP - Nexcellence
PSP - SpringBox
reFuse - Lowender
Slate Digital - Trigger 2
Soundtoys -Decapitator
Soundtoys - Devil-Loc Deluxe
Soundtoys - Radiator
u-He - Satin
UAD - Ampex ATR-102
UAD - AMS RMX16
UAD - API 550A
UAD - Brainworx bx_digital V2
UAD - Cooper Time Cube
UAD - dbx160
UAD - EMT 140
UAD - EP-34 Tape Echo
UAD - Fairchild 670
UAD - Helios 69
UAD - Manley Massive Passive
UAD - Neve 33609
UAD - Neve 1073
UAD - Neve 1081
UAD - Ocean Way
UAD - Pultec EQP-1A
UAD - SPL Transient Designer
UAD - Studer A800
UAD - UA 1176AE
UAD - UA 1176LN E
UAD - UA 610-A
UAD - LA-2
Valhalla - Room
Valhalla - VintageVerb
Waves - Apex Vintage Aural Exciter
Waves - CLA2A
Waves - CLA-76
Waves- DeEsser
Waves - Kramer GT
Waves - Puigtec EQP-1A
Waves - RBass
Waves - REQ 4
Waves - RVox
Waves - Scheps 73
Waves - SSL Channel
Waves - SSL EQ
Pro Memembership
Watch all videos for$24.99 / month
Brian Moncarz
Based out of Chalet Studios just outside of Toronto, producer/mixer Brian Moncarz lives to record and mix both major label and indie bands and artists including The Tea Party, Our Lady Peace, The Trews, Circa Survive, which landed a Billboard Modern Rock/ Alternative #1 hit, Fantastic Negrito, Ian Moore, Neverending White Lights featuring Hot Hot Heat, Bleeker, Moneen, and The Proud Sons. 
Moncarz is proud of his association with producers Bob Ezrin and David Bottrill. Through years of working side-by-side with both masters, Moncarz has honed his craft: simply put, making great records. 
Brian is currently mixing new music for The Tea Party, their latest single "Black River," mixed by Moncarz, reached #2 on the Canadian Active Rock Radio Charts. Moncarz is also in the studio producing/mixing new music for Ferraro (Warner) and The Proud Sons (Coalition).
Previously, Brian mixed Our Lady Peace's single, "Drop Me In The Water," which spent 15 weeks in the Top Five at Active Rock Radio in Canada.
Credits
Alice Cooper
Our Lady Peace
Circa Survive
The Tea Party