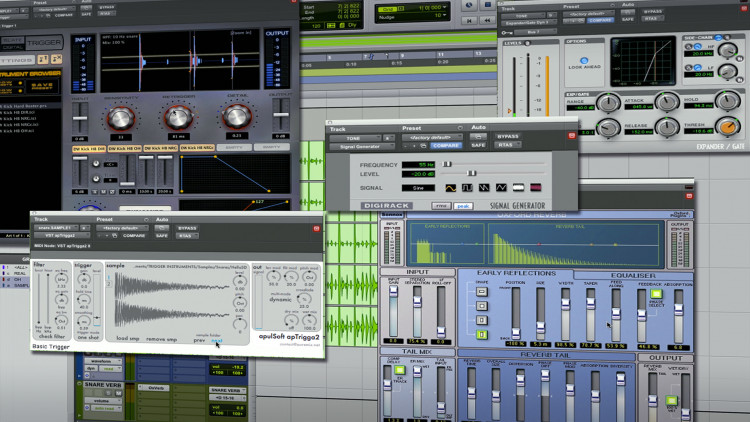 22min
(65)
There is a lot more to the drum sounds you hear on the radio than meets the ear. The problem is that it can be very hard to figure out how they sound that way just by listening to the finished product, so we thought we'd help.
In this video Fab Dupont shares ways to make acoustic drums sound clearer, punchier, vibier and able compete better with electronic drums. In this 22:37 Minutes video Fab shares how to augment drums with samples, both manually and with plugins, and how to fatten a bass drum with a triggered tone all the while insisting on the background info you need to make the enhancements sound natural and real.
If you have tried everything to make your acoustic drums sound pro but are still struggling, this video is bound to help you.
Apptrigga
Slate Trigger
Sonnox Oxford Reverb
Avid Signal Generator
Avid Gate/Exp
Pro Memembership
Watch all videos for$24.99 / month
Fab Dupont
Fab Dupont is an award-winning NYC based record producer, mixing/mastering engineer and co-founder of pureMix.net.
Fab has been playing, writing, producing and mixing music both live and in studios all over the world. He's worked in cities like Paris, Boston, Brussels, Stockholm, London and New York just to name a few.
He has his own studio called FLUX Studios in the East Village of New York City.
Fab has received many accolades around the world, including wins at the Victoires de la Musique, South African Music awards, Pan African Music Awards, US independent music awards. He also has received Latin Grammy nominations and has worked on many Latin Grammy and Grammy-nominated albums.
Credits
David Crosby
Queen Latifah
Jennifer Lopez
Mark Ronson
Les Nubians
Toots And The Maytals