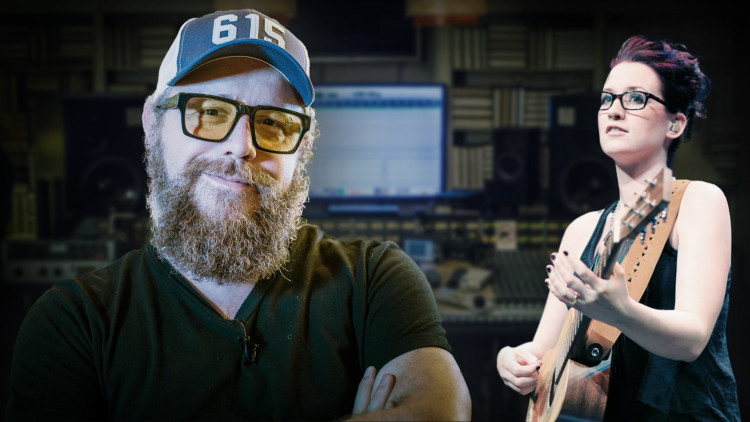 04h 01min
(29)
In this pureMix.net Exclusive, F. Reid Shippen opens the multitrack of Ingrid Michaelson's "Afterlife" to dissect the choices he and the producers made during production and remix the song in front of you to explain his thought process, workflow, and techniques that have helped him achieve success as a first call mixing engineer.
Learn how Reid:
Sets up his sessions before he starts mixing
Adds multiple layers of drum samples to craft powerful tones that cut through the mix
Blends multiple outboard compressors and eq chains as well as plugins in the box to sculpt the perfect lead vocal tone
Maintains perspective throughout the mixing process
Manages headroom
Explains the collaborative process with Jacquire King for this song
Checks Mono Compatibility
Creates contrast between sections of the song
Uses his pop shine trick on the lead vocal
Uses 2bus processing
Once Reid has the mix at a place where he feels it is ready to present, Co-producer, Jacquire King, stops by Robot Lemon to listen and add some final tweaks with Reid.
Watch F. Reid Shippen mix Ingrid Michaelson's "Afterlife". Only on pureMix.net
Software
Avid Dyn3 Compressor/Limiter
Avid Mod Delay III
Crowd Chamber
DMG Audio Essence
Eiosis AirEQ
Eventide Ultra Channel
Fabfilter Pro-Q2
Fabfilter Timeless 2
Massey DeEsser
Oek-Sound Soothe
PSP MixGate 2
PSP Mixtreble 2
PSP Spring Box
PSP Vintage Warmer
SPL DrumXChanger
SPL Transient Designer
SansAmp PSA-1
Softube Focusing Equalizer
Sound Toys Crystallizer
Sound Toys Decapitator
Sound Toys Devil-loc
Sound Toys Radiator
Sound Toys echoboy
UAD 1073
UAD Cooper Time Cube
UAD EP-34 Tape Echo
UAD Fatso Jr
UAD Helios 69
UAD LA-2A
UAD Neve 88RS
UAD Shadow Hills Mastering Compressor
UAD Trident A-Range
Waves C1 Compressor
Waves CLA Drums
Waves L1 Limiter
Waves Puigtec EQP1A
Waves RVox
Waves s1 Imager
iZotope Alloy 2
Hardware
Ampex Mixer
Aphex 204
BASE Bedini Audio Spacial Enviroment
Cooper Time Cube
D.A.V. Electronics S.I.P.P.
DBX "Disco" Boom Box
DBX 160
Dangerous BAX
Dangerous Compressor
Dangerous Liaison
Distressor
Dolby Model 365
Electrodyne Compressor
Focusrite Red 3 Compressor
Maag EQ4
Millennia STT-1
Mo-FX
PIE Limiters
Pultec EQP-1A3
Retro 1176
Retro EQ
Roland Dimension D
SSL 4K
Sony DRE 2000
Teletronix LA-2A
Teletronix LA-3A
Universal Audio 1176
VP28 Classic Preamp
Pro Memembership
Watch all videos for$24.99 / month
F. Reid Shippen
F. Reid Shippen has made a name for himself through working with some of the world's most respected artists across a wide variety of genres. Over his extensive career, Reid has mixed multiple platinum and gold records and hundreds of charting singles and albums, including ten Grammy Award-winning projects.
Known for his hybrid analog workflow, Reid has brought his signature sound to records for artists such as Death Cab For Cutie, Cage The Elephant, Neil Young, The Jonas Brothers, Backstreet Boys, Eric Church, Johnny Lang, Chris Tomlin, Dierks Bentley, and the list goes on.
Credits
Neil Young
The Jonas Brothers
Cage The Elephant
Death Cab For Cutie
Dierks Bentley