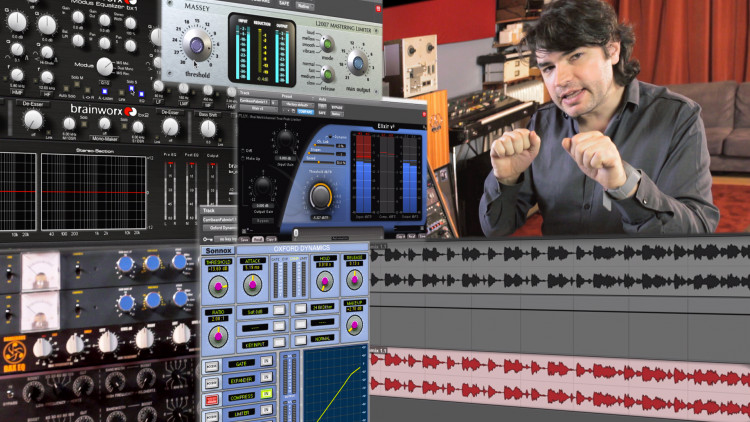 25min
(52)
As a conclusion to our series of videos on the song "Carribean Raider" by Grand Baton, Fab Dupont puts on his mastering engineer cap to coax the song towards the final step of the recording process.
If you've ever wondered what happens when you send a song to mastering, or if you've been willing to do the mastering part yourself, this video gives you the fly on the wall point of view.
Fab details his workflow and explains what corrections to make and how to enhance a mix to make it a final distribution ready product. Using a combination of software and hardware (just because he can!), he tailors his original mix with Equalization (broad and precise), compression, limiting, MS tooling etc to reach yet another level of sound. Making it loud and competitive though still perfect sounding.
Software used:
FLUX Elixir
SONNOX Oxford Dynamics
MASSEY L2007 Mastering Limiter
UAD Brainworx Modus Equalizer bx1
Hardware used:
UNIVERSAL AUDIO 2192 Converter
NEUMANN PEa Stereo EQ
DANGEROUS Bax EQ, MQ
MANLEY Stereo Pultec EQ
If you would like to watch the previous steps of the recording of that song, please visit Producing Caribbean Raider's guitar sounds and Mixing Dubstep in ProTools
Pro Memembership
Watch all videos for$24.99 / month
Fab Dupont
Fab Dupont is an award-winning NYC based record producer, mixing/mastering engineer and co-founder of pureMix.net.
Fab has been playing, writing, producing and mixing music both live and in studios all over the world. He's worked in cities like Paris, Boston, Brussels, Stockholm, London and New York just to name a few.
He has his own studio called FLUX Studios in the East Village of New York City.
Fab has received many accolades around the world, including wins at the Victoires de la Musique, South African Music awards, Pan African Music Awards, US independent music awards. He also has received Latin Grammy nominations and has worked on many Latin Grammy and Grammy-nominated albums.
Credits
David Crosby
Queen Latifah
Jennifer Lopez
Mark Ronson
Les Nubians
Toots And The Maytals