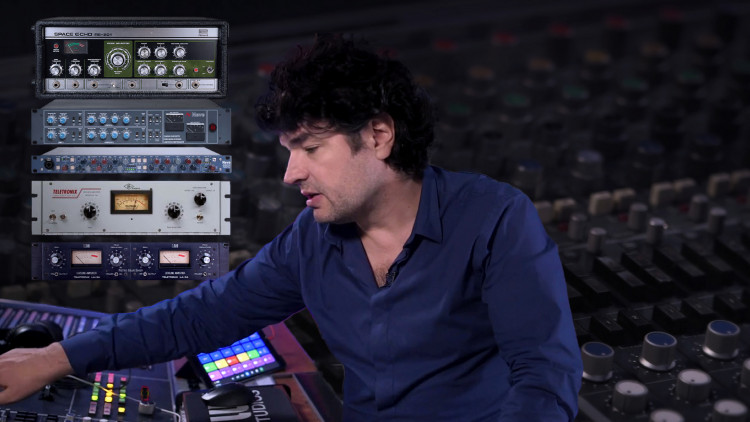 01h 13min
(36)
What happens when you turn off the screen, unplug the keyboard, and then power up the console and warm up the outboard gear? Is it better? The same? Time to find out...
This 1.5 hour tutorial features the song "Jealousy" by Brandi Thompson and the Alexanders, tracked by Grammy winner Mick Guzauski and produced by Fab Dupont.
See how Fab Dupont:
Gives a complete breakdown of the Neve 33 series console in the Dangerous Room at Flux Studios NYC
Unplugs the keyboard and mouse to do a 100% analog mix
Lays out the tracks on the console and explains his workflow and every choice he makes in real-time
Explains the importance of gain staging while patching in an EMT 140 plate reverb
Sets up a parallel drum bus with a DBX 160VU
Sets up a Neve 33609 compressor and a Neumann PEV EQ across the 2bus
Dials in the console's built-in 3314 compressors for parallel compression on the entire mix
Patches in an AKG BX10 spring reverb from the fabulous room to the dangerous room on the snare drum
Patches in a Roland RE-201 for a mono delay on the vocal
Does his final fader rides by hand with no automation while printing the final mix
This is your chance to sit next to Fab Dupont in the Dangerous Room at Flux Studios NYC and see how he mixes Jealousy entirely out of the box from scratch.
After you've seen how Fab does it, download the multitrack and practice what you've learned. In or out of the box!
Want to watch Fab mix "Jealousy" entirely in the box using Pro Tools and only stock plugins? Watch here and see which you prefer!
Hardware
1974 Neve Broadcast (3314 Cartridges)
AKG BX 10
dbx 160
EMT 140
Neve 33115 Modules
Neve 33129 Modules
Neve 33609
Neumann PEV EQ
Roland Space Echo RE-201
Teletronix LA-2A
Urei 1176LN
Pro Memembership
Watch all videos for$24.99 / month
Fab Dupont
Fab Dupont is an award-winning NYC based record producer, mixing/mastering engineer and co-founder of pureMix.net.
Fab has been playing, writing, producing and mixing music both live and in studios all over the world. He's worked in cities like Paris, Boston, Brussels, Stockholm, London and New York just to name a few.
He has his own studio called FLUX Studios in the East Village of New York City.
Fab has received many accolades around the world, including wins at the Victoires de la Musique, South African Music awards, Pan African Music Awards, US independent music awards. He also has received Latin Grammy nominations and has worked on many Latin Grammy and Grammy-nominated albums.
Credits
David Crosby
Queen Latifah
Jennifer Lopez
Mark Ronson
Les Nubians
Toots And The Maytals