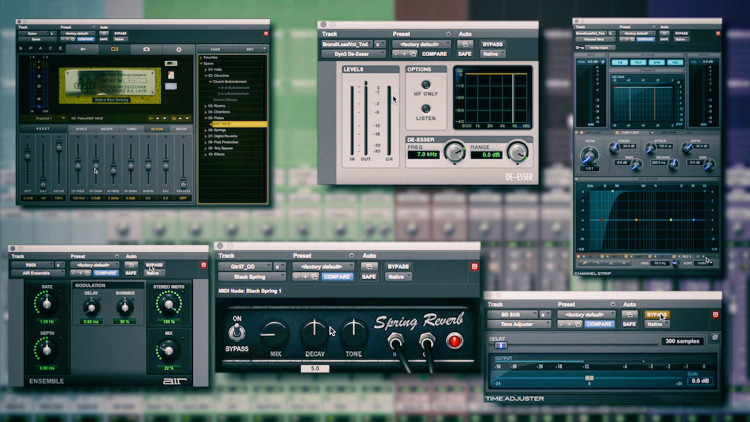 02h 32min
(40)
Learn To Mix With Stock Pro Tools Plugins
Learn how a Grammy winning producer/engineer mixes a song using only the tools included with Pro Tools.
This 2.5 hour tutorial features the song "Jealousy" by Brandi Thompson which was tracked by Grammy winner Mick Guzauski and produced by Fab Dupont. See how Fab uses the AVID's standard suite of plugins to create clear and punchy mix.
Fab shows you tips and tricks on how to prepare the session for an easy workflow and then gets to work adding details and life to every element of the mix.
Learn how to bring the vocals in a mix to the front and create an organic balance that adds bounce and enhances the feel of the song.
Then download the raw multitrack files and practice mixing the entire song for yourself
Avid AIR Ensemble
Avid AIR Spring Reverb
Avid AIR Vintage Filter
Avid BBD Delay
Avid Black Op Distortion
Avid Bomb Factory BF-76 Compressor
Avid Channel Strip
Avid DVerb
Avid Green JRC Overdrive
Avid Maxim
Avid Pro Tools Control iPad App
Avid SansAmp
Avid Trim
Digidesign Dyn3 De-Esser
TL|Audio Space
Pro Memembership
Watch all videos for$24.99 / month
Fab Dupont
Fab Dupont is an award-winning NYC based record producer, mixing/mastering engineer and co-founder of pureMix.net.
Fab has been playing, writing, producing and mixing music both live and in studios all over the world. He's worked in cities like Paris, Boston, Brussels, Stockholm, London and New York just to name a few.
He has his own studio called FLUX Studios in the East Village of New York City.
Fab has received many accolades around the world, including wins at the Victoires de la Musique, South African Music awards, Pan African Music Awards, US independent music awards. He also has received Latin Grammy nominations and has worked on many Latin Grammy and Grammy-nominated albums.
Credits
David Crosby
Queen Latifah
Jennifer Lopez
Mark Ronson
Les Nubians
Toots And The Maytals