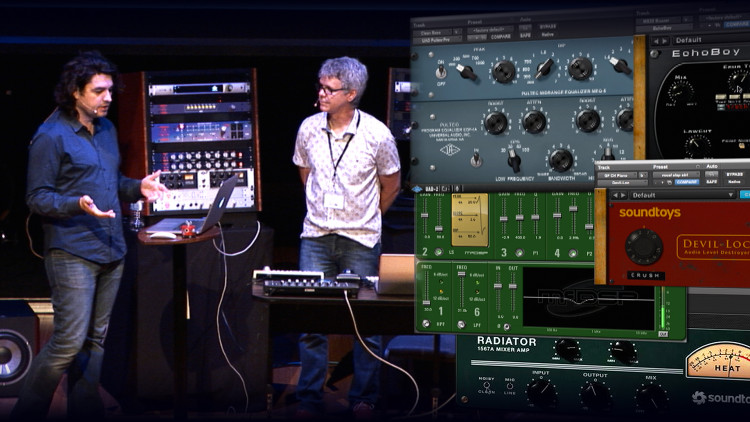 01h 46min
(40)
Mix Off Time! In this video Fab Dupont and John Paterno duke it out live in front of an audience. They are mixing the same song with the same tracks, the same speakers, in the same room at the same time with the same rig.
What is the difference? Philosophy, workflow, tricks, and vision. A mix off like this one is the only way to really see the impact of the human element on the mixing process.
This video features Fab Dupont and John Paterno, another Grammy-winning engineer, mixing a song called "10,000 Footsteps", performed by the great South-African band The Arrows. They both mix the song, taking 10 minute turns, using laptop computers, ProTools HD with a Universal Audio Apollo 16 interface and outboard gear including Universal Audio 1176s, and a complete Dangerous Music back end featuring a Dangerous BAX EQ & Monitor ST. They used Focal speakers.
Using a variety of hardware and software sound treatments, the two mixing engineers truly make magic happen. As the video progresses, Fab aims for a lush-sounding approach, achieving a sense of space and presence, while John is looking for a more rock'n'roll tone, by adding some grit and punch to the tracks. Who do you think will win ? It does not matter. This one is about the journey, not the destination.
Pro Memembership
Watch all videos for$24.99 / month
Fab Dupont
Fab Dupont is an award-winning NYC based record producer, mixing/mastering engineer and co-founder of pureMix.net.
Fab has been playing, writing, producing and mixing music both live and in studios all over the world. He's worked in cities like Paris, Boston, Brussels, Stockholm, London and New York just to name a few.
He has his own studio called FLUX Studios in the East Village of New York City.
Fab has received many accolades around the world, including wins at the Victoires de la Musique, South African Music awards, Pan African Music Awards, US independent music awards. He also has received Latin Grammy nominations and has worked on many Latin Grammy and Grammy-nominated albums.
Credits
David Crosby
Queen Latifah
Jennifer Lopez
Mark Ronson
Les Nubians
Toots And The Maytals