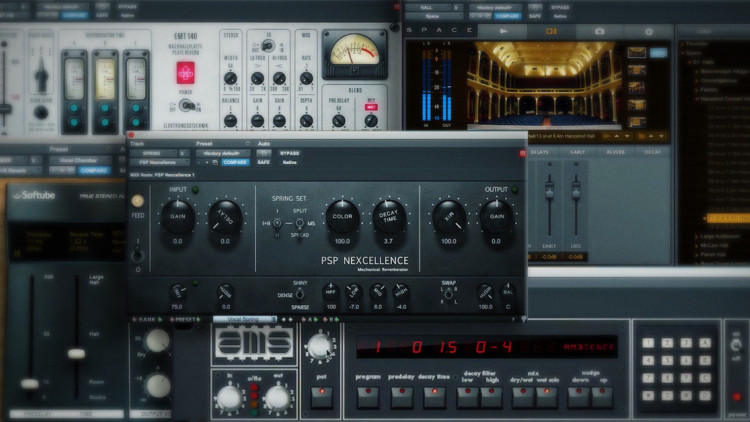 27min
(106)
Reverb is one of the oldest tools we have as engineers to enhance our recordings. But how do we use it? What type should we use? Can YOU hear the difference?
In this puremix.net Exclusive, Grammy Award Winning Engineer, Fab Dupont teaches you:
How to hear the difference between plate, spring, hall, and chamber reverbs
How to use short ambience to add size to your vocals
How to add a sense of height to your mixes with hall reverbs.
Plus, if you have ever been curious about how popular reverb plugins compare to their real-life counterparts, you will be able to listen to:
A real EMT 140 plate reverb next to the UAD EMT 140
A Spring Reverb plugin next to a real AKG BX10
 A classic Hardware PCM 70 Chamber next to a plug-in Chamber.
Learn how to hear the characteristics of these classic sounds, from Fab Dupont. Only on pureMix.net.
Software
Avid ReVibe II
Avid Space
PSP Nexcellence
Softube TSAR-1R
UAD AMS RMX16
UAD EMT 140
Valhalla Vintage Verb
Hardware
AKG BX10
AMS RMX16
EMT 140
Lexicon PCM 70
Pro Memembership
Watch all videos for$24.99 / month
Fab Dupont
Fab Dupont is an award-winning NYC based record producer, mixing/mastering engineer and co-founder of pureMix.net.
Fab has been playing, writing, producing and mixing music both live and in studios all over the world. He's worked in cities like Paris, Boston, Brussels, Stockholm, London and New York just to name a few.
He has his own studio called FLUX Studios in the East Village of New York City.
Fab has received many accolades around the world, including wins at the Victoires de la Musique, South African Music awards, Pan African Music Awards, US independent music awards. He also has received Latin Grammy nominations and has worked on many Latin Grammy and Grammy-nominated albums.
Credits
David Crosby
Queen Latifah
Jennifer Lopez
Mark Ronson
Les Nubians
Toots And The Maytals