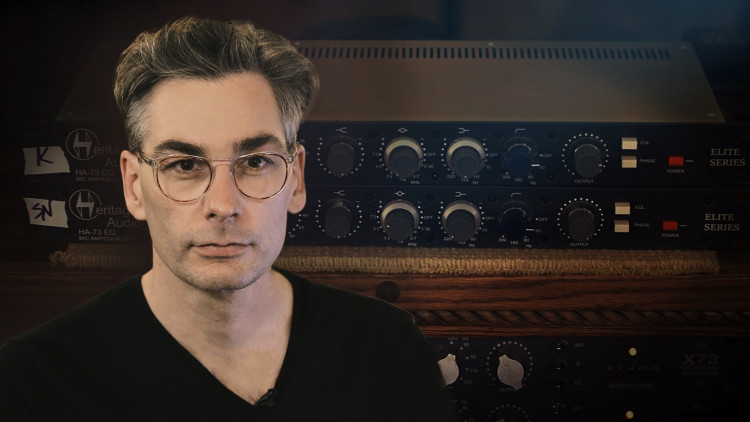 54min
(46)
Microphone preamplifiers can have an incredible influence on the tone of the source being recorded. Specific microphone preamplifiers from well known name brands are coveted for the sonic imprint they impart onto recordings.
In the latest entry to our How To Listen Series, Fab Dupont and Chris Mara (producer, engineer, and owner of the Nashville based recording studio, "Welcome To 1979") sit down with four different flavors of microphone preamplifiers for the purpose of quantifying the characteristics each contribute to the final sound of the recording.
This is a chance to hear the sound of coveted microphone preamplifiers on the same drummer, playing the same pattern, through the same microphones, so that you can listen to the differences for yourself as Chris, and Fab demonstrate, explain, and give you tips on what to focus on in order to learn the sound of microphone preamplifiers.
1978 MCI 400 Console w/CAPI API MIC Preamps
Trident 80 Sidecar
Heritage Audio HA-73 Mic Amp/Equalizer
Vintech Audio X73 Mic Preamp Equalizer
Pro Memembership
Watch all videos for$24.99 / month
Fab Dupont
Fab Dupont is an award-winning NYC based record producer, mixing/mastering engineer and co-founder of pureMix.net.
Fab has been playing, writing, producing and mixing music both live and in studios all over the world. He's worked in cities like Paris, Boston, Brussels, Stockholm, London and New York just to name a few.
He has his own studio called FLUX Studios in the East Village of New York City.
Fab has received many accolades around the world, including wins at the Victoires de la Musique, South African Music awards, Pan African Music Awards, US independent music awards. He also has received Latin Grammy nominations and has worked on many Latin Grammy and Grammy-nominated albums.
Credits
David Crosby
Queen Latifah
Jennifer Lopez
Mark Ronson
Les Nubians
Toots And The Maytals