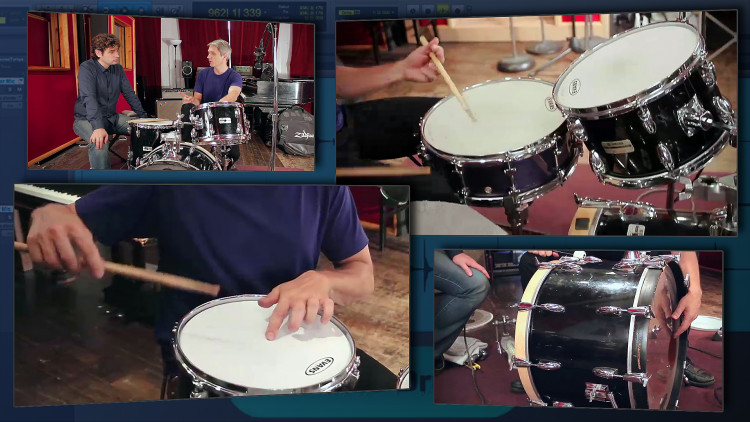 01h 23min
(47)
with NYC's 1st call session drummer Graham Hawthorne
Have you ever listened to a record and caught a guitar player with an out of tune string or a bass player with bad intonation? Even worse, have you heard an average singer without Melodyne!!??
As producers, it is our job to ensure that everything we record is in tune and that includes the foundation of our mixes -- the drums!
In this tutorial join Fab Dupont and world renowned drummer Graham Hawthorne (Paul Simon, Fatboy Slim, Bon Jovi, and more) as they dissect the entire process of replacing, tuning and maintaining drum heads and hardware that are the essential and often overlooked elements of great drum recordings.
In this step-by-step guide to tuning drums you will learn about the importance of drum heads, the purpose of snare drum accessories, the influence of drum stands, and much, much more.
Learning how drums are tuned is crucial for every engineer to know because badly tuned drums will sound flappy and lifeless. The difference between a kick drum that tears through a rock record or sits calmly inside of a jazz mix may only be quarter tone away.
Topics Covered Include:
The order you should tune your drum lugs
Tuning the top and bottom head
Changing drum heads
Compare an out of tune drum kit to an in tune drum kit
Using a drum key properly
Accurate muffling and dampening drum heads
Developing overall tone in a drum kit
Pro Memembership
Watch all videos for$24.99 / month
Fab Dupont
Fab Dupont is an award-winning NYC based record producer, mixing/mastering engineer and co-founder of pureMix.net.
Fab has been playing, writing, producing and mixing music both live and in studios all over the world. He's worked in cities like Paris, Boston, Brussels, Stockholm, London and New York just to name a few.
He has his own studio called FLUX Studios in the East Village of New York City.
Fab has received many accolades around the world, including wins at the Victoires de la Musique, South African Music awards, Pan African Music Awards, US independent music awards. He also has received Latin Grammy nominations and has worked on many Latin Grammy and Grammy-nominated albums.
Credits
David Crosby
Queen Latifah
Jennifer Lopez
Mark Ronson
Les Nubians
Toots And The Maytals