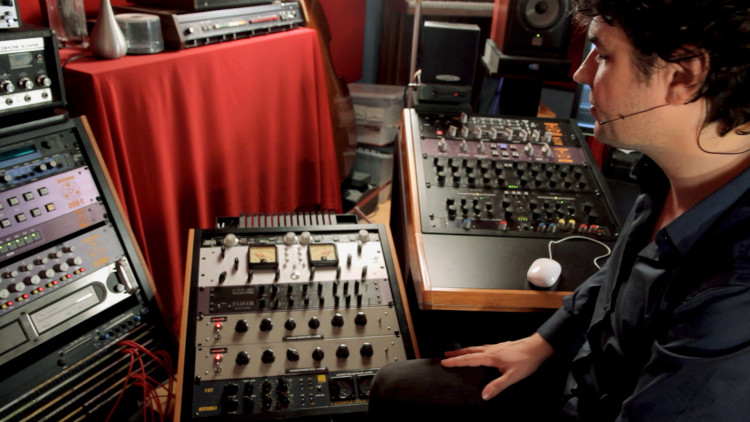 01h 27min
(102)
In this one hour and twenty seven point three minutes extravaganza Fab mixes a new track from Indie Pop band Plastic Days.
Starting from scratch and explaining every step he takes and every choice he makes (Every breath he takes, every move he makes, oh can't you seeeeeee....), he coaxes the track from rough mix to final mix using hardware eqs and compressors, many different plugins, analog summing, and a great array of tricks to make the song shine. Instruments dealt with range from vocals to bass, drums, guitars and keyboards (Oolala).
The attached zip file contains the original uncompressed files of the session.
Dangerous 2-Bus, Roger Schult EQs, RockRuepel Comp1, ELI Fatso, Chandler TG1, Mercury Pultec EQH1, Dangerous BAX EQ
Software used : ProTools HD9, Oxford EQ, Oxford Dynamics, Oxford Reverb, UAD Room Simulator, UAD EMT140, UAD Pultec, UAD 1176, UAD Fairchild, UAD Little Labs, UAD Precision EQ, Soundtoys Echoboy, Soundtoys PhaseMistress, Softube Reverb, Avid Expander Gate
Pro Memembership
Watch all videos for$24.99 / month
Fab Dupont
Fab Dupont is an award-winning NYC based record producer, mixing/mastering engineer and co-founder of pureMix.net.
Fab has been playing, writing, producing and mixing music both live and in studios all over the world. He's worked in cities like Paris, Boston, Brussels, Stockholm, London and New York just to name a few.
He has his own studio called FLUX Studios in the East Village of New York City.
Fab has received many accolades around the world, including wins at the Victoires de la Musique, South African Music awards, Pan African Music Awards, US independent music awards. He also has received Latin Grammy nominations and has worked on many Latin Grammy and Grammy-nominated albums.
Credits
David Crosby
Queen Latifah
Jennifer Lopez
Mark Ronson
Les Nubians
Toots And The Maytals