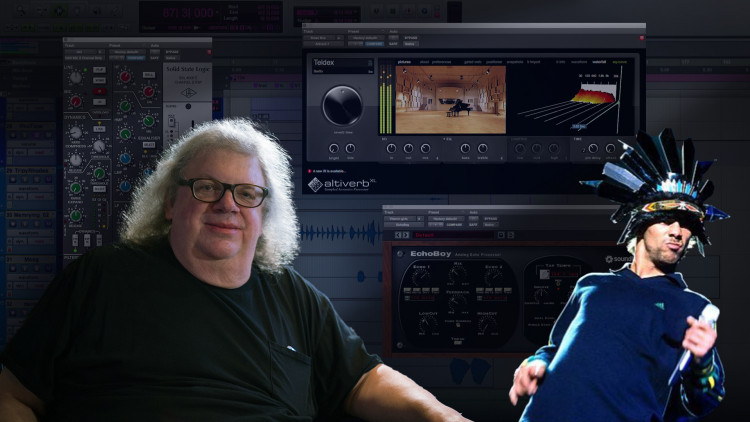 59min
(65)
Watch Mick Guzauski Mix The Epic Single, "Vitamin" From Jamiroquai
Grammy Award Winning Engineer, Mixer, and Producer, Mick Guzauski, has made a name for himself as one of the top mixing engineers in the world. With over 27 #1 singles, few have risen to the heights of success that Mick has.
In this pureMix.net Exclusive, Mick opens his mix of Jamiroquai's song "Vitamin" to explain his thought process, workflow, and techniques that he used to create this incredibly tight, punchy and exciting mix that manages to have a ton of space without ever losing the impact of the tight performances.
Learn how Mick:
Enhances low end on kick drums
Creates a crisp and tight high hat sound with a stereo spread
Adds space around elements of the mix with carefully chosen and tuned reverbs
Adds compression without character to subtly control and already great sounding lead vocal
How he sets up session routing to quickly create stems when requested
Tweaks his stereo bus EQ to create a tight low end while still controlling subsonic energy
Watch Mick Guzauski mix Jamiroquai's "Vitamin". Only on pureMix.net
Software
Audio Ease Altiverb XL
Avid AIR Ensemble
Avid BF-76
Avid EQ3 7-Band
Avid MOD DELAY III
Avid Pro Subharmonic
BraniWorx bx_solo
Fab Filter Pro-C2
Fab Filter Pro-DS
Fab Filter Pro-G
Fab Filter Pro-L
Fab Filter Pro-MB
Fab Filter Pro-Q2
Sonnox Oxford Transmod
Sound Toys Echo Boy
UAD 1176LN Rev E
UAD Massive Passive EQ
UAD Pure Plate
UAD SSL 4000 E
UAD Teletronix LA-2A
Valhalla Plate
Valhalla Room
Pro Memembership
Watch all videos for$24.99 / month
Mick Guzauski
Mick Guzauski has won 9 Grammy Awards and mixed over 27 #1 hits. Mick is considered one of the top mix sound engineer and mixer in the world.
Mick's love for both music and technology started when he was in high school. Growing up in Rochester, NY where there were no nearby commercial studios so Mick put together his own studio in parents' basement with equipment that he had begged, borrowed, built, repaired and modified.
In the early '80s, Mick worked with Maurice White and Earth, Wind and Fire at the Complex owned by George Massenburg (the father of parametric EQs in case you did not know...). "Being around George was a great learning experience in both the art of recording and in audio technology," said Mick.
Then in 2013, Daft Punk was looking for an engineer/mixer to team up with on their fourth studio album and at the recommendation of mutual friend Mick got the call. Unlike most dance albums, the sound of Random Access Memories is completely organic and incredibly dynamic (and fat!)
Mick is actually well-known for his natural and organic sound. Have a look at his pureMix videos and pay attention to his subtle eq and compression move. Whatever he does, it always sounds unprocessed, real and sweet to the ear.
Credits
Daft Punk
Prince
Michael Jackson
Earth Wind & Fire
Natalie Cole
Kenny G