02h 00min
(59)
Watch Ryan Hewitt Mix The Lumineers
As one of the staples of the indie-folk genre, The Lumineers have seen the heights of the charts several times. In April of 2016, the band released the hit song "Angela", with a meticulously crafted arrangement and sonic landscape.
In this puremix.net exclusive, Grammy award-winning engineer and mixer, Ryan Hewitt, goes inside the mix and deconstructs the song piece by piece, going further than simple mixing techniques to explain the effect that a great arrangement can have to build excitement and take the listener on a journey, from a simple guitar and vocal song to a full-blown orchestral climax.
During this 2 hour video, Ryan explains how he:
Achieved the iconic vocal sound that establishes a connection between the singer and the audience
Created bass guitar tones that translate to small speakers
Added forward-driving momentum to unique percussion tracks
Creates contrast and scene changes as the song moves from section to section, all building up to an emotional finish
This is your chance to sit next to Ryan Hewitt, and take a behind the scenes look at the creation of an indie folk smash hit.
After you've seen the video, download the stems and mix it for yourself. 
Software
Audio Ease Altiverb 7
Avid AIR Stereo Width
Avid DYN3 Expander / Gate
Avid EQ3 7-Band
FabFilter Pro-L
FabFilter Pro-Q2
Sound Toys Devil-Loc
Sound Toys EchoBoy
UAD 1176LN
UAD API 550A
UAD EL7 Fatso Sr
UAD EMT 140
UAD EP-34 Tape Echo
UAD Fairchild 670
UAD LA-3A
UAD Neve 1073
UAD Precision DE-ESSER
UAD Pultec EQP-1A
UAD SSL E Channel Strip
UAD Teletronix LA-2A
Waves C6
Waves Doubler 4
Waves H-Delay
Waves REQ 6
Hardware
API-2500
Chandler Limited Curve Bender
Manley Massiv Passive EQ
NTI EQ3
Smart C2
Pro Memembership
Watch all videos for$24.99 / month
Ryan Hewitt
Ryan Hewitt is a Grammy winning engineer, mixer and producer with a credit list spanning all popular genres of music.
Ryan found his love for music and recording working along side his father, famed remote recording engineer David Hewitt.
After earning a degree at Tufts University in Boston, Ryan moved to New York City to work at Sony Music Studios. Opportunities then took Ryan to Los Angeles where he began working with The Red Hot Chili Peppers and Rick Rubin. This led to Ryan engineering and mixing the Peppers' multiple-Grammy-winning double album, Stadium Arcadium.
Rick and Ryan have continued to work together on a number of projects with artists such as Angus and Julia Stone, Brandi Carlile, Lady Gaga and Johnny Cash, as well as three albums and three live DVDs for The Avett Brothers.
Credits
Blink 182
Red Hot Chili Peppers
The Lumineers
The Avett Brothers
Tom Petty & The Heartbreakers
Featured Artists and Musics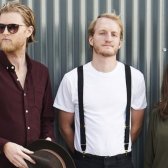 The Lumineers

The Lumineers are songwriters Wesley Schultz (vocals, guitar) and Jeremiah Fraites (drums, piano). They are joined by cellist and backing vocalist Neyla Pekarek, who became a part of the group in 2010. Their irresistible anthem "Ho Hey" took the world by storm in 2012, followed by a second #1 single "Stubborn Love" and their third charting single "Submarines", all carrying them on a journey from the Grammys to the presidential iPod, from the top of the charts to the Hunger Games.

?>