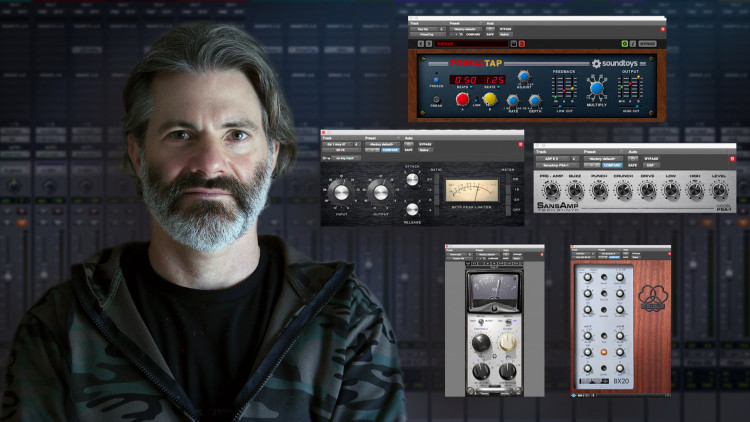 02h 47min
(58)
In Episode 6 of our Lifeboats Series, Grammy Award Winning Engineer, Jacquire King, opens the multitrack for the Will Knox song, "Lifeboats", and takes us all the way from hearing the song for the first time, to a completed powerful and energetic mix with his signature sound imprinted upon it.
In this 3 hour tutorial, learn how Jacquire:
Has his assistant, Danny Pellegrini prepare a session for mixing
Uses his 16 Channel Modified Quad console for out of the box summing
Address phase and polarity issues on multi-mic'd sources such as bass DI versus bass amp microphones and the drum kit
Addresses the commonly overlooked phase relationship between kick and snare
Discusses the importance of elements pushing the speakers versus pulling them
Sets up his mix bus processing at the beginning of the mix
Sets a Distressor for parallel drum compression
Adds stereo width to synth bass, and demonstrates using EQ pre and post-process
Controls the kick drum using SSL Channel compression and demonstrates how he hears the compression before the low-resolution meter displays what is happening.
Adds space to guitar and synth elements using multiple styles of delay and reverb
Uses tape saturation on background vocals
Adds tone and weight to the vocal by carefully tweaking the UAD 1176AE compressor, taking full advantage of the 2:1 ratio
Meticulously automates several elements of the mix to dynamically perfect the balance
Watch Jacquire King's episode of our exclusive Lifeboats series, only on puremix.net

Learn More About The Lifeboats Series Here
Aphex Vintage Exciter
Bomb Factory BF 76
Cytomic The Glue
DB-33 Leslie
Fabfilter Pro DS
Fabfilter Pro L2
Fabfilter Pro Q2
PSP VintageWarmer
Protools Lo-Fi
Protools Mod Delay III
SansAmp PSA-1
Soundtoys Decapitator
Soundtoys Devil-Loc
Soundtoys EchoBoy
Soundtoys FilterFreak
Soundtoys MicroShift
Soundtoys PanMan
Soundtoys PrimalTap
UAD AKG BX20
UAD Curve Bender
UAD Distressor
UAD EMT-140
UAD Fairchild 660
UAD Neve 1081
UAD Neve 33609
UAD Precision K-Stereo
UAD SSL E Channel Strip
UAD Studer A800
UAD Teletronix LA-2A
UAD Trident A-Range
UAD UA 1176E
Valhalla Room
Valhalla Shimmer
Valhalla Vintage Verb
Waves API 550A
Waves CLA-76
Waves Puig Tec EQP1A
Waves Scheps 73
Waves TG12345
Pro Memembership
Watch all videos for$24.99 / month
Jacquire King
Award-winning Producer, Engineer, and Mixer, Jacquire King, has worked with some of the world's most influential artists in every role you can imagine in a recording studio. From being an acclaimed recordist to mixing and producing multi-platinum records (9X in the case of Kings Of Leon) by superstars like Kaleo, Modest Mouse, Kings of Leon, Tom Waits, Norah Jones, Buddy Guy, Cold War Kids, MuteMath, Melissa Etheridge, and James Bay.
To date, Jacquire has received several awards for his meticulous attention to detail and unique approach to creating records that withstand the test of time.
His discography is well-known for the variety of music encompassed from the past 20 years. When you see Jacquire's tutorials on pureMix, you will have the chance to sit next to a true master at work, who strives to enhance the artist's vision and serve the songs he helps deliver to the masses.
Credits
Kings of Leon
Tom Waits
James Bay
Modest Mouse
Buddy Guy
Norah Jones