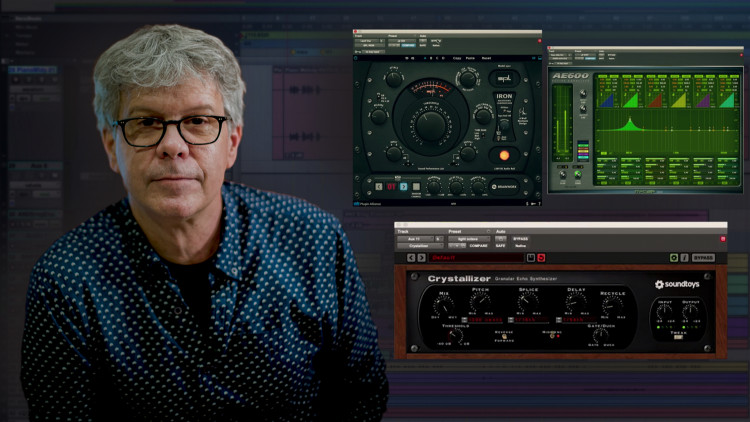 03h 08min
(37)
In Episode 5 of our Lifeboats Series, Grammy Award Winning Engineer, John Paterno, opens the multitrack for the Will Knox song, "Lifeboats", and takes us all the way from hearing the song for the first time, to a completed powerful and energetic mix with his signature sound imprinted upon it. 
In this 3 hour tutorial, learn how John:
Uses Analog EQs to commit sounds and add extra tone early in the process
Uses Mono delay on the drums to enhance the shuffle groove of the track
Cleans up clicks and pops that can be distracting and pull the listener out of the track
Reamps the guitars using a Little Labs PCP box, an Otis amplifier, a Universal Audio OX and a Chandler LTD-1
Controls the balance of the drums in the overhead mics
Deals with the phase relationship between a Bass DI and Amp
Monitors in Mono to fine tune balance relationships
Watch John Paterno's episode of our exclusive Lifeboats series, only on puremix.net

Learn More About The Lifeboats Series Here
Software
Audio Ease Altiverb
Elysia mpressor
Empirical Labs Arousor
Fabfilter Pro-DS
Flux Solera V3
Ghz Lohi 3
McDsp AE600
McDsp Futzbox
Over Loud Echoson
SPL Iron
Softube RS127
Sound Toys Crystallizer
Sound Toys Devil-Loc
Sound Toys Primal Tap
UAD 1176 LN Rev E
UAD 1176 Rev A
UAD Ampeg B15N
UAD Ampex ATR-102
UAD Brigade Chorus
UAD EP-34 Tape Echo
UAD Fairchild 660
UAD Lexicon 480L
UAD UA610-A
Valhalla Uber Mod
ghz Wow Control 3
iZotope Ozone
iZotope RX De-Click
reMatrix
 Hardware
Build Your Own Clone Vibrato
Chandler Limited Germanium
Chandler Limited LTD-1
Chandler Limited Little Devil
Empirical Labs Mike-E
Little Labs PCP Instrument Distro
Moog Mooger Fooger
OTIS Amp
Sony M7
Studio Electronics AN2 Stereo Simulator
UA Ox
Urei LA-3A
Pro Memembership
Watch all videos for$24.99 / month
John Paterno
John moved to Los Angeles two weeks after graduation from the University of Miami MUE [Music Engineering] program. A short period of freelance assisting concluded with a staff position at Sunset Sound/Sound Factory in Hollywood, where for five years he was exposed to many great engineers, producers, and artists.
After breaking out of assisting, John worked with a wide range of producers including Mitchell Froom, Joe Chiccarelli, Byron Gallimore, Celso Valli, and Stephen Duffy. He won a Latin Grammy for his work with artist/producer Soraya.
In addition, John has produced or co-produced projects for The Black Mollys, Mitchell Froom, Lustra, Robbie Williams, The Lilac Time, and many other artists. He as also co-written songs with artists and has written pieces for TV and film.
John is also known to be an outstanding guitar player, and has mastered the craft of recording this instrument.
Check out his videos on PureMix to see how his meticulous approach makes for detailed and punchy mixes.
Credits
Robbie Williams
The Steve Gadd Band
Soraya
Robben Ford
Eros Ramazzotti
The Thrills