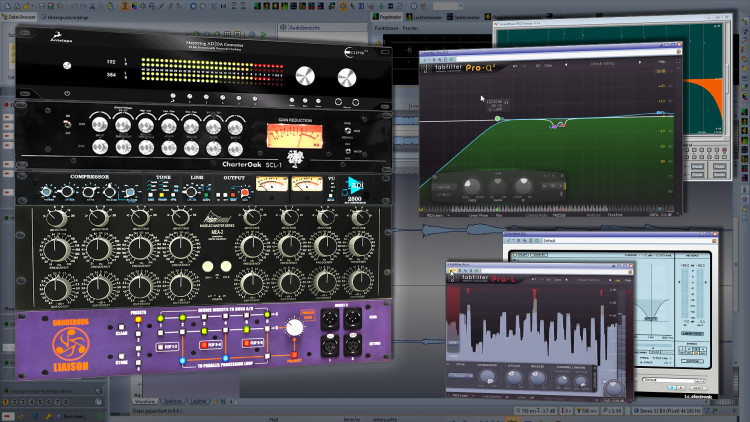 01h 23min
(25)
Hybrid-mastering of a latin pop easy listening song
In Vol.3 of the Mastering Stylebook series Friedemann Tischmeyer shows a hybrid approach giving this song a fresh and sparkling impression using a mix of selected plug-ins and analog outboard gear.
This time he is working with Steinberg´s WaveLab and shows an ideal hybrid mastering studio setup which has been realized in the 15Hz - Mastering Academy studio in Hamburg / Germany.
The song was performed by the Los Angeles resident Brazilian musician Rogerio Jardim.
Friedemann begins by building a mental aural vision before we actually start petting the gear. Then he will run you step by step through the setup, explaining the gear and why he has applied particular settings in order to realize the initially built vision of a fresh and sparkling sound.
Down the road you will learn how to use a dynamic EQ to reduce S-problems within a mastering process. He will also show you how he controls the highs and create a modern and bright sound without making it harsh.
The Mastering Stylebook series allows you to get impulses and inspiration to solve specific challenges and tasks which show up in the daily mastering practice. By practicing with the original mix with your personal choice of tools you will be able to compare your result with Friedemann´s master. You can certainly also apply the techniques used with the analog hardware in this video with your choice of plug-in substitutes.
Used software & hardware:
WaveLab Mastering DAW (Software)
Algorithmix PEQ Orange as surgical EQ (Plug-in)
Fabfilter Pro Q2 as MS-EQ (Plug-in)
Dynamic EQ by TC as De-Esser (Plug-in)
Antelope Eclipse DA-AD-Converter (Hardware)
Manley Mastering Backbone (Hardware)
Dangerous Liaison (Hardware)
Maselec MEA-2 Mastering EQ (Hardware)
SPL Tube Vitalizer (Hardware)
Charter Oak SCL-1 Compressor (Hardware)
Maselec HF-Limiter MPL-2 (Hardware)
API 2500 Single Band Compressor (Hardware)
MD3 Multiband-Compressor by TC (Hardware/Software)
Fabfilter Pro L Limiter (Plug-in)
Pro Memembership
Watch all videos for$24.99 / month
Friedemann Tischmeyer
Friedemann has mastered for artists such as Alan Parsons, Steely Dan, Johnny Cash, Iron Maiden, is inventor of the Dynamic Range Meter and founder of the Mastering Academy.
Credits
Alan Parsons
Steely Dan
Johnny Cash
Iron Maiden