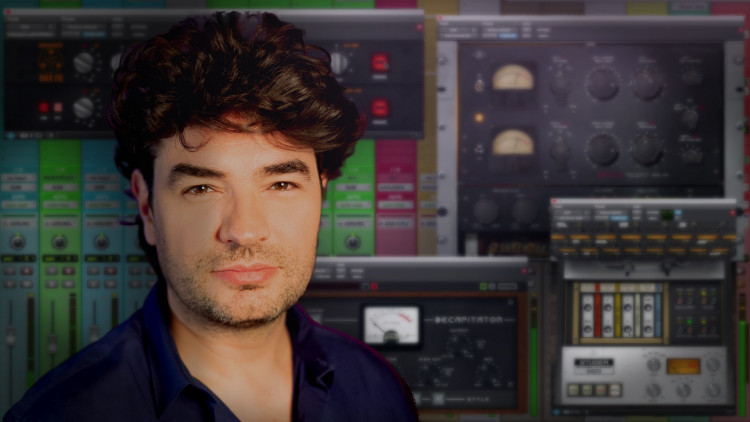 02h 01min
(72)
Watch Fab Dupont Mix A Problematic Track Recorded In A Home Studio
We asked the pureMix Pro Members to send us sessions recorded in home studios with common problems that we all deal with. Distorted tracks, tracks with excessive bleed, you name it, we asked for it.
Mike Brown and the band "Gladhand" obliged with their track "All My Dogs", recorded live to ADAT in 1996.
The track has all of the fairly common challenges. Too much high hat bleed in the snare mic, an unfocused mono overhead, tom mics that may have been a little far away from the toms, and more.
In this pureMix.net exclusive, watch as Grammy Award Winning Engineer, Fab Dupont, deals with everyday challenges to extract a vibe that is consistent with the band's intent and deliver a stellar mix from source tracks that need a little love.
See how Fab:
Deals with a snare drum with too much ring
Replaces toms recorded with a less than ideal mic technique
Creates a vibe around the drums from a mono overhead
Adds definition, clarity and tone to the bass track
Creates space around close mic'd guitar amplifiers
Addresses clipping on the guitar tracks
Fits in an overdubbed violin track
Creates a two bus processing chain that adds movement and supports the groove of the mix.
After you've seen how Fab does it, download the stems and practice what you've learned!
Watch Fab Dupont, deal with everyday problems on tracks recorded in a home studio, while mixing "All My Dogs" from Gladhand. Only on pureMix.net
Software
Avid Pro Expander
Fab Filter Pro-DS
Fab Filter Pro-Q2
Oxford Dynamics
Oxford Inflator
Oxford Limiter
Oxford Reverb
PSP Nexcellence
SansAmp
Sound Toys Decapitator
Sound Toys Echo Boy Jr.
UAD 1176
UAD Ampeg SVTVR
UAD Dangerous BAX EQ
UAD Fairchild 670
UAD Ocean Ways Studios
UAD Pultec-Pro Legacy
UAD SSL G Bus Compressor
UAD Studer A800
UAD Teletronix LA-2A
UAD dbx 160
apulSoft apTrigga 3
Pro Memembership
Watch all videos for$24.99 / month
Fab Dupont
Fab Dupont is an award-winning NYC based record producer, mixing/mastering engineer and co-founder of pureMix.net.
Fab has been playing, writing, producing and mixing music both live and in studios all over the world. He's worked in cities like Paris, Boston, Brussels, Stockholm, London and New York just to name a few.
He has his own studio called FLUX Studios in the East Village of New York City.
Fab has received many accolades around the world, including wins at the Victoires de la Musique, South African Music awards, Pan African Music Awards, US independent music awards. He also has received Latin Grammy nominations and has worked on many Latin Grammy and Grammy-nominated albums.
Credits
David Crosby
Queen Latifah
Jennifer Lopez
Mark Ronson
Les Nubians
Toots And The Maytals