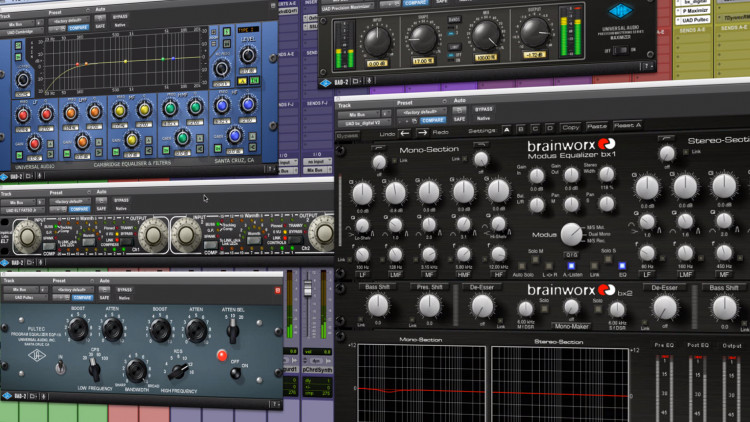 7min
(36)
How To Set Up a Mix Bus Chain
Ben Lindell demonstrates how he sets up his mix bus processing on a nearly finished mix. Using Universal Audio UAD plugins, Ben takes this dance-pop track from sounding good to great!
The goal with processing on the mix bus (aka 2-bus, mix buss, master fader, etc) is to deliver as close to a finished, mastered sounding mix to the artist. The closer you can get to achieving the sound and vibe the artist wants to hear the easier it will be for your mastering engineer to add their finishing touches.
It is critical to know how to achieve a coherent, rich, and clear sound at the final stages of the mixing process in order to deliver a mix that blows your clients away.
As always with pureMix, Ben details the purpose and function of each of these plug-ins, as well as the specific settings used. Apply these techniques to your own mixes and give them the finished, professional sound your clients are looking for.
UAD Plug-ins used :
Cambridge EQ
FATSO Jr. Compressor
Brainworx Digital EQ V2
UAD Precision Maximizer
UAD Pultec EQ
"I Know U Know" - iTunes or Spotify
By Tatiana Owens
Pro Memembership
Watch all videos for$24.99 / month
Ben Lindell
Ben is a NYC based producer/engineer who has worked with artists from MGMT to Soulja Boy, Bebel Giberto to Lloyd Banks, Ryan Leslie, Olivia, Tony Yayo, Red Cafe, Edie Brickell, Carole Pope and hundreds of other artists from around the world. He grew up in Iowa and then attended the University of Miami.
In addition to being a fantastic musician he is also a tremendous geek when it comes to anything technical, be it software, plug-ins, microphones or outboard gear. It's this marriage of musical creativity and technical know-how that makes him an in demand producer/engineer.
Credits
50 Cent
Soulja Boy
Wale
Kelly Rowland
Chromeo
MGMT