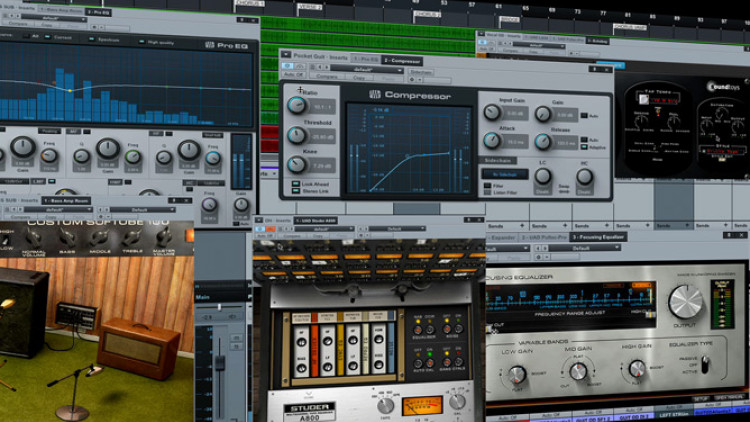 01h 57min
(58)
In this three part video series, Fab Dupont takes a live recording of Jay Stolar's 'Fall Apart' and turns it into a finished mix. Presonus Studio One was used for the entire recording and mixing process.
This video is great for any songwriter or producer working with live bands. You will learn ways to make real instruments sound punchy and present in a modern way.
Using Studio One's built in plug-ins (ProEQ, Channel Strip, Expander, Compressor) as well as lots more from UAD (Pultec, Studer A800, 1176LN, Fairchild, DBX160, Roland R-201, Cooper Time Cube, Moog Filter, EMT250, Lexicon 224, EMT140, RS1, Precision Bus Compressor), Softube (Focusing Eq, Fet Compressor, TSAR-1 Reverb, Bass Amp Room) and Soundtoys (Echoboy) Fab takes the song from raw tracks to finished product in a little less than two hours.
He mixes drums, bass, guitar, keyboards, vocals, comparing microphones when several are available (Original mic placements are shown) making choices based on the song context and the final desired results. Many mixing techniques are addressed including parallel compression and space design with multiple reverbs. You will also learn about transients management and tune a vocal track with taste.
Half way through the process, the mixing session turns into a recording session again when Fab realizes a hole in the arrangement. The whole process is documented live and integrated the series where he finishes the song and lets us compare before and after sounds.
The attached zip file contains the original uncompressed files of the session. Please download it and import these files in the DAW you use to make music. This way you can practice your skills and mix this song using your own tastes, tools, plug-ins and the guidelines provided in this video.
For more info about Jay Stolar, please visit his website
Pro Memembership
Watch all videos for$24.99 / month
Fab Dupont
Fab Dupont is an award-winning NYC based record producer, mixing/mastering engineer and co-founder of pureMix.net.
Fab has been playing, writing, producing and mixing music both live and in studios all over the world. He's worked in cities like Paris, Boston, Brussels, Stockholm, London and New York just to name a few.
He has his own studio called FLUX Studios in the East Village of New York City.
Fab has received many accolades around the world, including wins at the Victoires de la Musique, South African Music awards, Pan African Music Awards, US independent music awards. He also has received Latin Grammy nominations and has worked on many Latin Grammy and Grammy-nominated albums.
Credits
David Crosby
Queen Latifah
Jennifer Lopez
Mark Ronson
Les Nubians
Toots And The Maytals