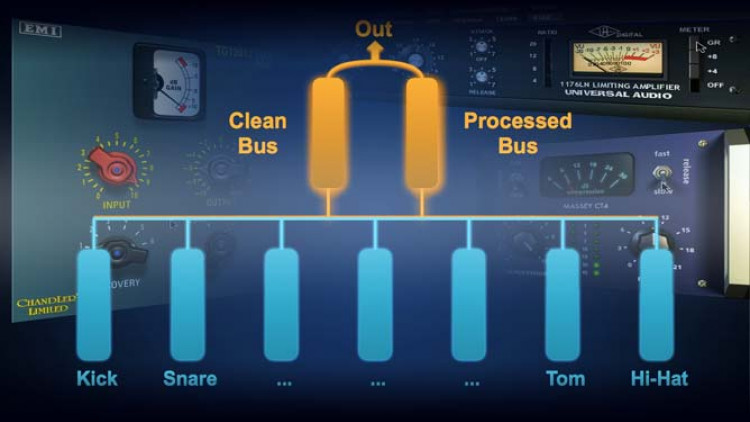 13min
(90)
Learn how to treat compression like an instrument and perform magic on any drum mix.
Fab uncovers the mysterious process of parallel compression, also known as New York compression.
Watch this step by step guide on how to achieve a punchy yet natural drum sound with some simple routing and a compressor (or 3!)
This tutorial shows you how to:
Set up parallel processing buses
Listen and learn the unmistakeable sound of New York Compression
Tweak the 2 most important controls: attack & release
Manage gain staging between the processed and unprocessed signals
Hear the tone differences between various compressors being pushed to their limits.
This is the most essential mixing technique that's been used on almost every record for decades. Don't start mixing another set of drum recordings until you've watched this tutorial!
Plugins used:
Massey CT4
Chandler TG1 plugin
UAD 1176 plugin
This video is part of our ultimate compression bundle. Check it out!
Pro Memembership
Watch all videos for$24.99 / month
Fab Dupont
Fab Dupont is an award-winning NYC based record producer, mixing/mastering engineer and co-founder of pureMix.net.
Fab has been playing, writing, producing and mixing music both live and in studios all over the world. He's worked in cities like Paris, Boston, Brussels, Stockholm, London and New York just to name a few.
He has his own studio called FLUX Studios in the East Village of New York City.
Fab has received many accolades around the world, including wins at the Victoires de la Musique, South African Music awards, Pan African Music Awards, US independent music awards. He also has received Latin Grammy nominations and has worked on many Latin Grammy and Grammy-nominated albums.
Credits
David Crosby
Queen Latifah
Jennifer Lopez
Mark Ronson
Les Nubians
Toots And The Maytals