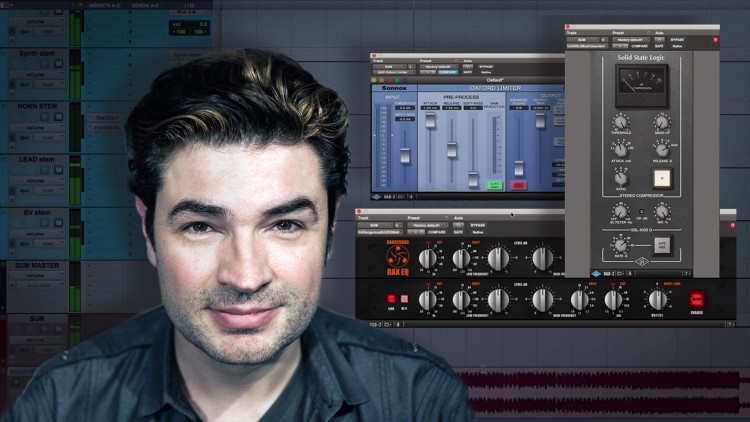 34min
(103)
What's On Your Mix Bus?
What's on your mix bus??
It is one of the most discussed topics in audio, and often one of the least understood. How many times have you heard "This is the best 2 bus compressor" or "This EQ really shines on the mix bus!"? But does that mean that it is the right piece of gear for the material that you are working on?
In this pureMix.net exclusive, Grammy Award Winning Engineer Fab Dupont explains his approach and philosophy to 2 bus processing, breaking down each step of his chain and the role it plays toward creating a tone for the track.
Learn how Fab sets up his two bus chain with:
High Pass Filtering and EQ
Precision EQ
Compression and how it can affect the relationship of all of the elements in the mix.
Color EQ
Limiting
Once you have seen how Fab does it, download the mix he is working on and use what you have learned to create a 2 bus processing chain that works for you!
Learn the principles of Mix Bus Processing, from Fab Dupont, only on pureMix.net
Sonnox Oxford Limiter
UAD Cambridge EQ
UAD Dangerous BAX EQ
UAD Precision Compressor
UAD Pultec Pro Legacy
UAD SSL G Bus Compressor
Pro Memembership
Watch all videos for$24.99 / month
Fab Dupont
Fab Dupont is an award-winning NYC based record producer, mixing/mastering engineer and co-founder of pureMix.net.
Fab has been playing, writing, producing and mixing music both live and in studios all over the world. He's worked in cities like Paris, Boston, Brussels, Stockholm, London and New York just to name a few.
He has his own studio called FLUX Studios in the East Village of New York City.
Fab has received many accolades around the world, including wins at the Victoires de la Musique, South African Music awards, Pan African Music Awards, US independent music awards. He also has received Latin Grammy nominations and has worked on many Latin Grammy and Grammy-nominated albums.
Credits
David Crosby
Queen Latifah
Jennifer Lopez
Mark Ronson
Les Nubians
Toots And The Maytals