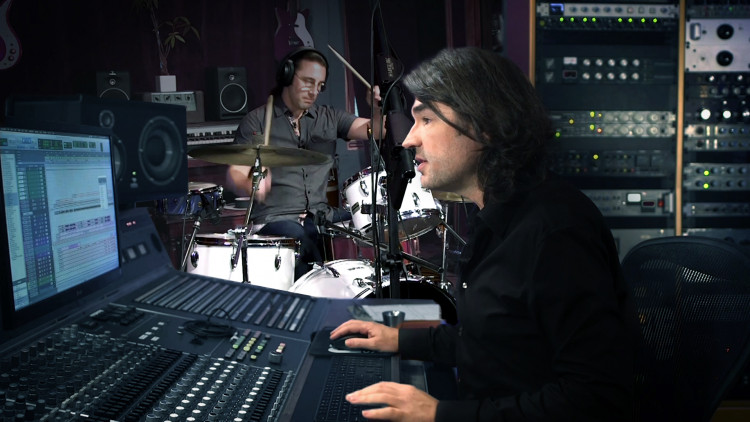 03h 23min
(14)
In part one of this epic installment of the Pro Member Mix Fix Series, Fab Dupont opens up the session for "Bayou Ingenue" by Mark Conner to discover the task ahead.
After reviewing the session, Fab calls Mark to discuss his thoughts and form a plan for the next two days to elevate the track.
With a plan in place, he taps on first-call studio musician, Dave Zerio, to re-track drums, percussion, and organ on the track.
Watch as Fab:
Opens up the session for "Bayou Ingenue" to hear the tracks for the first time
Calls pureMix ProMember, Mark Conner, to discuss his plan for the project
Explains the entire drum setup with Dave Zerio and produces Dave's performance through the track
Records the drums, organ, and percussion using only affordable mics and no outboard gear
Works on the approach to the groove with Dave to find the right pocket for the drums
Reviews the drum takes with Dave and creates a comp
Edits the track to fit with the new tempo and groove of the drums
In Part 5, Dave Zerio gives an in-depth breakdown of how a Hammond organ operates.
Records and produces passes of the Hammond organ
Adds Tambourine to the track

This is your chance to join Fab Dupont in the Dangerous Room at Flux Studios NYC as he forms a plan from scratch, and works with one of his first call session musicians to help elevate "Bayou Ingenue".
Hardware
AKG D112
Audix D2
Audix D1
Fender Dual Showman Reverb Amp
Lauten Audio LA-120
1974 Neve Broadcast (3314 Cartridges)
Yamaha SubKick
Plug-ins
BF-76
UAD Ocean Way Studios
Waves REQ 6
Pro Memembership
Watch all videos for$24.99 / month
Fab Dupont
Fab Dupont is an award-winning NYC based record producer, mixing/mastering engineer and co-founder of pureMix.net.
Fab has been playing, writing, producing and mixing music both live and in studios all over the world. He's worked in cities like Paris, Boston, Brussels, Stockholm, London and New York just to name a few.
He has his own studio called FLUX Studios in the East Village of New York City.
Fab has received many accolades around the world, including wins at the Victoires de la Musique, South African Music awards, Pan African Music Awards, US independent music awards. He also has received Latin Grammy nominations and has worked on many Latin Grammy and Grammy-nominated albums.
Credits
David Crosby
Queen Latifah
Jennifer Lopez
Mark Ronson
Les Nubians
Toots And The Maytals