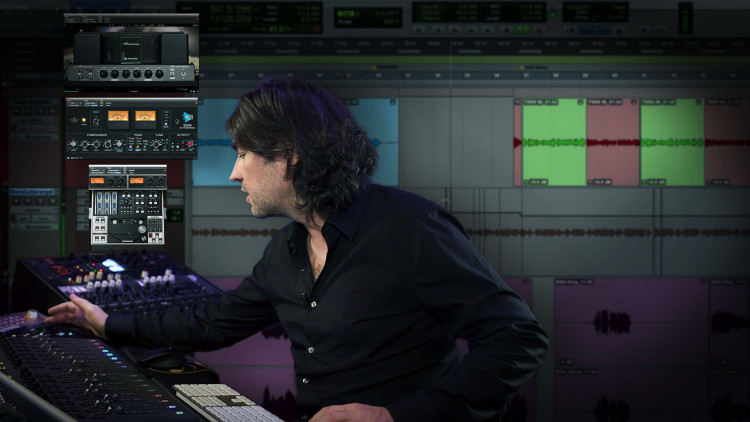 03h 29min
(6)
In part two of this epic installment of the Pro Member Mix Fix Series, Fab Dupont takes the tracks he recorded with Dave Zerio and edits them together with the new tempo and groove before completing an epic mix of "Bayou Ingenue" by Mark Conner and friends.
Watch as Fab:
Produces NYC session musician Dave Zerio through takes on the Hammond Organ at Flux Studios
Brings the session back to the Fabulous room and preps it for mixing on his rig
Edits the bass, guitar, and vocals to fit in the pocket of the new drums at the new tempo
Sculpts the low end of the song by eq-ing the bass and kick and adding parallel compression for a full and punchy low end
Puts the band in a similar space using the Universal Audio Oceanway Studios plugin
Adds depth to the percussion groove by using the Waves One Knob Pumper
Checks the bottom of the mix on headphones
Uses the Universal Audio ATR102 tape machine to add texture and dimension to the bass guitar
Tries a more aggressive approach to the stereo bus compressor for a more glued together mix and A/Bs the results while explaining his choice
Calls Mark Conner and plays him the mix for his final feedback
This is your chance to join Fab Dupont in the Dangerous Room at Flux Studios NYC as he forms a plan from scratch and works with one of his first call session musicians to help elevate "Bayou Ingenue."
Plug-ins
Ampeg B15N
BBD Delay
BF-76
Decibel
FabFilter Pro Q3
FabFilter Pro DS
Oxford Dynamics Compressor/Limiter
Oxford Limiter
Pro Expander
RBass
SoundToys EchoBoy
SoundToys MicroShift
Sugar
UAD Neve 1073
UAD Ocean Way Studios
UAD Ampex ATR-102
UAD API 2500
UAD Dangerous BAX EQ
UAD dbx 160
UAD EMT 140
UAD Fairchild 660
UAD Fender 55 Tweed Deluxe
UAD Lexicon 224
UAD Little Labs IBP
UAD Neve 33609
UAD Pultec Pro Legacy
UAD Teletronix LA-2A Silver
UAD Studer A800
UAD UA 1176 Rev A
UAD UA 1176LN Legacy
Waves OneKnob Pumper
Waves REQ 2
Waves REQ 6
Pro Memembership
Watch all videos for$24.99 / month
Fab Dupont
Fab Dupont is an award-winning NYC based record producer, mixing/mastering engineer and co-founder of pureMix.net.
Fab has been playing, writing, producing and mixing music both live and in studios all over the world. He's worked in cities like Paris, Boston, Brussels, Stockholm, London and New York just to name a few.
He has his own studio called FLUX Studios in the East Village of New York City.
Fab has received many accolades around the world, including wins at the Victoires de la Musique, South African Music awards, Pan African Music Awards, US independent music awards. He also has received Latin Grammy nominations and has worked on many Latin Grammy and Grammy-nominated albums.
Credits
David Crosby
Queen Latifah
Jennifer Lopez
Mark Ronson
Les Nubians
Toots And The Maytals