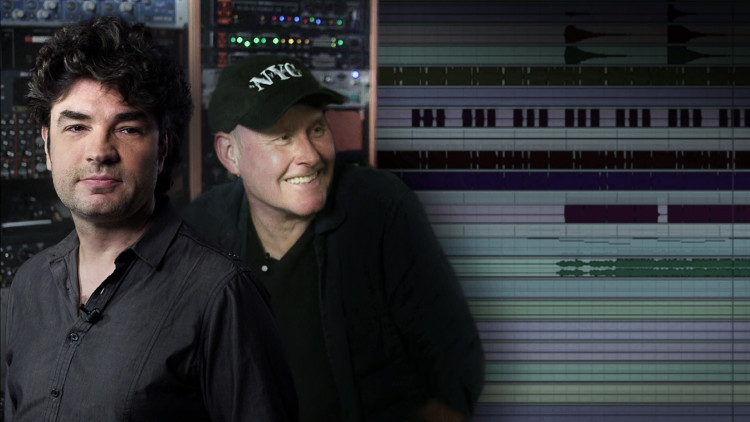 47min
(22)
After the first Pro Member Mix Fix Episode response, we asked the pureMix Pro Members once again to send us sessions recorded in home studios with common problems that we all deal with. Distorted tracks, tracks with excessive bleed, you name it, we wanted it.
When we heard Adrian Szendel's submission of "Some Summer Day" by his band "Six Of One," we called him right away. Without hesitation, Adrian packed up his car and drove from Cleveland, Ohio, to New York overnight and arrived at Flux Studios the next day to be a part of the shoot!
The track has some new challenges. It was built from a song idea from Adrian's writing partner, Tim DeHuff. That song idea that sparked "Some Summer Day" happens to be one mono track, containing drums, tabla, bass guitar, and electric guitar!
In this episode, watch as Fab and Adrian discuss the song's background and create a plan of attack to bring "Some Summer Day" to life.
See how Fab Dupont:
Dissects a session when he receives it to figure out what the session contains
Sets up the session with his personal taste and feng shui, setting himself up for an efficient and productive session
Discusses the mix with Adrian, who is attending the mixing session
Uses DECIBEL to set his loudness early in the session
Finds the tempo of the session
Places the audio on the grid to help with marker placement and drum replacement
Inserts samples from his personal sample library to sweeten the Kick and Snare
Sets up a parallel drum crush bus
Watch Fab Dupont, mix "Some Summer Day" from Six Of One. Only on pureMix.net
Software
FabFilter Pro-Q2
Process.Audio Decibel (beta)
Process.Audio Sugar
Sonnox Oxford Limiter
UAD dbx 160
UAD Fairchild 670
UAD Little Labs IBP
UAD Neve 33609
UAD Pultec-Pro Legacy
UAD Studer A800
Pro Memembership
Watch all videos for$24.99 / month
Fab Dupont
Fab Dupont is an award-winning NYC based record producer, mixing/mastering engineer and co-founder of pureMix.net.
Fab has been playing, writing, producing and mixing music both live and in studios all over the world. He's worked in cities like Paris, Boston, Brussels, Stockholm, London and New York just to name a few.
He has his own studio called FLUX Studios in the East Village of New York City.
Fab has received many accolades around the world, including wins at the Victoires de la Musique, South African Music awards, Pan African Music Awards, US independent music awards. He also has received Latin Grammy nominations and has worked on many Latin Grammy and Grammy-nominated albums.
Credits
David Crosby
Queen Latifah
Jennifer Lopez
Mark Ronson
Les Nubians
Toots And The Maytals