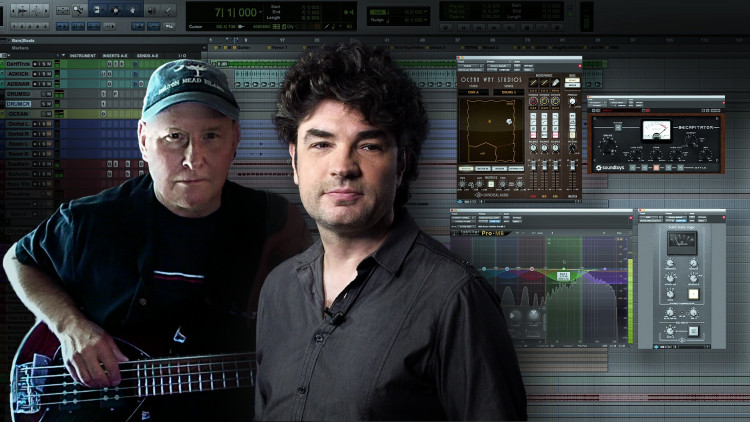 01h 05min
(20)
Watch Fab Dupont Continue The Mix Of "Some Summer Day"
Now that Adrian has briefed Fab on the background of the song, the intention, and direction for where he would like to see it head, it's time for Fab to continue unpacking the session to find the exciting moments and bring them to life.
In this episode, watch as Fab continues the mix for "Some Summer Day" by working through the kick bass relationship, applying 2 bus processing, and introducing the vocals to the mix.
See how Fab Dupont:
Carves out space in the bass guitar to make a hole for the kick drum
Creates a shared space for the drums with the Universal Audio Ocean Way Reverb plugin
Tweaks the second bass guitar track to create a stereo effect that wraps around the mix
Uses the room that he set up on the drums on multiple elements of the mix for a cohesive space
Uses an amp simulation to add texture to the guitar tones
Revisits the 2 bus processing chain he set up in episode 1 to find a better fit for the bus compressor
Creates a submit of the background vocals and process them as a group
Uses a multi-band compressor to help control unwieldy vocals
Deals with "Ess-ing" buildups
Creates a "scene change" in the shout section with he lead vocal
Watch Fab Dupont, mix "Some Summer Day" from Six Of One. Only on pureMix.net
Software
apTrigga 3
FabFilter Pro-DS
FabFilter Pro-MB
FabFilter Pro-Q2
Mod Delay III
Process.Audio Decibel (beta)
Process.Audio Sugar
Sonnox Oxford Dynamics Compressor/Limiter
Sonnox Oxford Limiter
SoundToys Decapitator
UAD Ampeg SVT TR Classic
UAD dbx 160
UAD EMT 140
UAD EP-34 Tape Echo
UAD Fairchild 670
UAD Fender 55 Tweed Deluxe
UAD Little Labs IBP
UAD Neve 33609
UAD Ocean Way Studios
UAD Pultec-Pro Legacy
UAD Roland Dimension D
UAD SSL G Bus Compressor
UAD Studer A800
UAD Teletronix LA-2A Silver
UAD UA 1176 Rev A
Valhalla Plate
Valhalla VintageVerb
Pro Memembership
Watch all videos for$24.99 / month
Fab Dupont
Fab Dupont is an award-winning NYC based record producer, mixing/mastering engineer and co-founder of pureMix.net.
Fab has been playing, writing, producing and mixing music both live and in studios all over the world. He's worked in cities like Paris, Boston, Brussels, Stockholm, London and New York just to name a few.
He has his own studio called FLUX Studios in the East Village of New York City.
Fab has received many accolades around the world, including wins at the Victoires de la Musique, South African Music awards, Pan African Music Awards, US independent music awards. He also has received Latin Grammy nominations and has worked on many Latin Grammy and Grammy-nominated albums.
Credits
David Crosby
Queen Latifah
Jennifer Lopez
Mark Ronson
Les Nubians
Toots And The Maytals