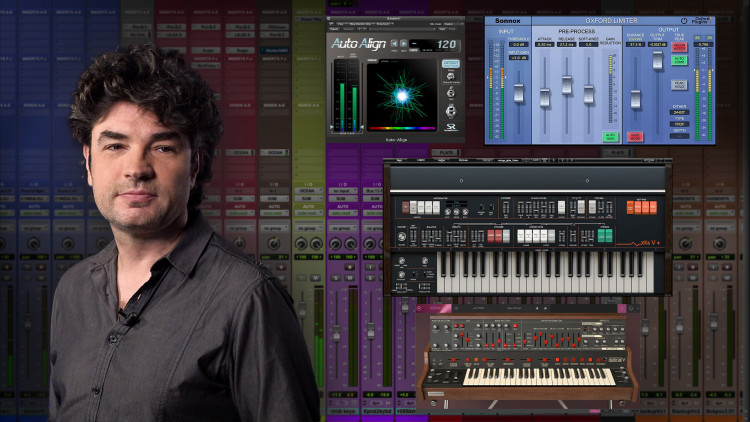 01h 11min
(16)
With the foundation of the mix formed in episode 2, Fab continues the mix, taking some time to put on his producer hat and focus on the performances and arrangement of the track.
Watch as Fab:
Auditions alternate software synthesizers to add a different texture to the keyboard parts
Tweaks the song's form by cutting and inserting time in sections
Plays with the arrangement by muting parts to create special moments and hooks throughout the track
Uses side chain compression to duck the vocal delay while the vocal is signing
Tweaks the timing of the drum loop in spots to rush and drag to give the feel of a live drummer
Adds an additional drum parallel bus with a different envelope and texture to add intensity to the percussion tracks
Dials in a Fairchild 660 on the bass guitar for added control
Works on the relationship of the kick drum and bass guitar
Phase Aligns his kick drum sample with the loop
Discusses monitoring levels
Watch Fab Dupont, mix "Some Summer Day" from Six Of One. Only on pureMix.net
Software
apTrigga 3
FabFilter Pro-DS
FabFilter Pro-MB
FabFilter Pro-Q2
Mod Delay III
Process.Audio Decibel (beta)
Process.Audio Sugar
Sonnox Oxford Dynamics Compressor/Limiter
Sonnox Oxford Limiter
SoundToys Decapitator
Solina V2
Sound Radix Auto-Align
SoundToys EchoBoy
UAD Ampeg SVT TR Classic
UAD dbx 160
UAD EMT 140
UAD EP-34 Tape Echo
UAD Fairchild 670
UAD Fairchild 670
UAD Fender 55 Tweed Deluxe
UAD Little Labs IBP
UAD Neve 33609
UAD Ocean Way Studios
UAD Pultec-Pro Legacy
UAD Roland Dimension D
UAD SSL G Bus Compressor
UAD Studer A800
UAD Teletronix LA-2A Silver
UAD UA 1176 Rev A
UAD UA 1176LN Rev E
Valhalla Plate
Valhalla VintageVerb
XILS V+
Pro Memembership
Watch all videos for$24.99 / month
Fab Dupont
Fab Dupont is an award-winning NYC based record producer, mixing/mastering engineer and co-founder of pureMix.net.
Fab has been playing, writing, producing and mixing music both live and in studios all over the world. He's worked in cities like Paris, Boston, Brussels, Stockholm, London and New York just to name a few.
He has his own studio called FLUX Studios in the East Village of New York City.
Fab has received many accolades around the world, including wins at the Victoires de la Musique, South African Music awards, Pan African Music Awards, US independent music awards. He also has received Latin Grammy nominations and has worked on many Latin Grammy and Grammy-nominated albums.
Credits
David Crosby
Queen Latifah
Jennifer Lopez
Mark Ronson
Les Nubians
Toots And The Maytals