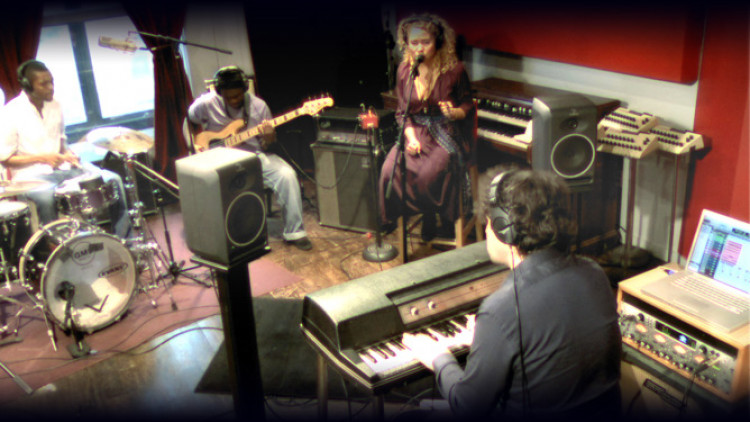 22min
(40)
See the production process for the song Open Eyed
Fab Dupont explains his creative decision making process as he transforms the Home Cookin' song 'Open Eyed' from the demo to the version heard at the Universal Audio Apollo launch event.
Compare the two versions of the song along with the band and hear singer Liza Colby and producer John Burgos tell the story of how the original track came to fruition and their feelings on the new version.
Get inside the head of an award-winning producer and learn Fab's decision making process when producing records. You'll gain valuable new insights that you can use as inspiration in your own work as Fab explains changes of arrangement, tempo, key, performance, and feel of the song.
Click here to learn with Fab as he mixes this song from scratch using only UA plugins.
Universal Audio UAD Plugins used:
1176 LN
Cambridge EQ
EP-34 Tape Echo
EMT 250
Harrison 32C EQ
LA2A
Moog Filter
MXR Flanger Doubler
Neve 88RS
Precision Enhancer Hz
Precision Maximizer
Precision Limiter
Precision Bus Compressor
Pultec Pro
RS-1 Reflection Engine
SPL Transient Designer
If you like the song, here is a link to buy it on itunes.
More about Liza Colby (Singer):
More about John Burgos (Producer):
Pro Memembership
Watch all videos for$24.99 / month
Fab Dupont
Fab Dupont is an award-winning NYC based record producer, mixing/mastering engineer and co-founder of pureMix.net.
Fab has been playing, writing, producing and mixing music both live and in studios all over the world. He's worked in cities like Paris, Boston, Brussels, Stockholm, London and New York just to name a few.
He has his own studio called FLUX Studios in the East Village of New York City.
Fab has received many accolades around the world, including wins at the Victoires de la Musique, South African Music awards, Pan African Music Awards, US independent music awards. He also has received Latin Grammy nominations and has worked on many Latin Grammy and Grammy-nominated albums.
Credits
David Crosby
Queen Latifah
Jennifer Lopez
Mark Ronson
Les Nubians
Toots And The Maytals