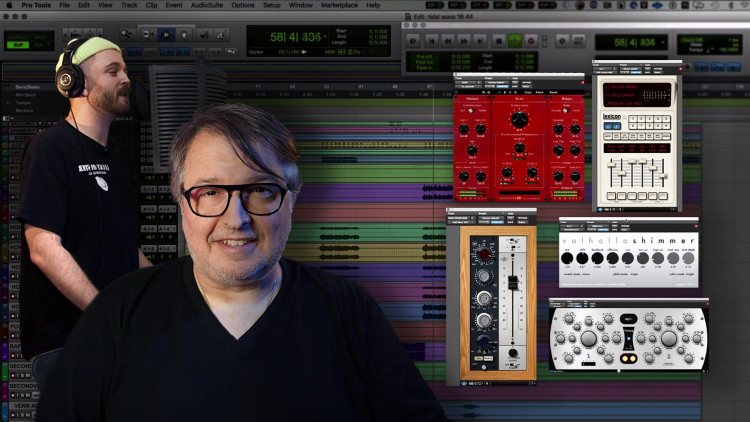 02h 18min
(21)
In this pureMix.net exclusive, multi-award-winning mixing engineer, Rich Keller, opens up the Pro Tools session for "Tidal Wave" and mixes the song from scratch while sharing his thought process and workflow along the way.
See how Rich Keller:
Listens to the stems and gives his initial impression
Quickly reacts to his first listen as he goes through the session track by track
Talks about the importance of knowing your room
Breaks down the vocal chain on Jared's lead and background vocals
Adds an SSL G Compressor to the stereo bus and demonstrates his favorite settings. Watch him go too far and show how to find the sweet spot on a bus compressor
Uses the Brainworx Sub Synthesizer plugin to add bottom to the bass
Explains when he reaches for an Empirical Labs Arouser in place of a Distressor
Shapes the sound of the synth pad with a Brainworx 2098 EQ to add texture while keeping it away from the vocals
Sets up scene changes between the verses and choruses using different effect chains on the vocals
Discusses important life lessons he has learned that have helped him create a career that makes him a first call mixer for artists for decades to come
After you have seen how Rich mixed it, download the exercise files and practice what you have learned.
Watch Rich Keller, mix "Tidal Wave" from Jared Evan. Only on pureMix.net
Avid Air Chorus
Avid Mod Delay III
Empirical Labs Arousor
Fab Filter Pro-L2
Plugin Alliance Maag EQ2
SPL Passeq
Sound Toys Echoboy
Sound Toys Effect Rack
UAD API Vision Console
UAD Distressor
UAD Lexicon 480L
UAD Neve 1073
UAD Precission De-Esser
UAD SSL G Bus
UAD Shadow Hills Mastering Compressor
Valhalla Shimmer
bx_2098 EQ
bx_console N
bx_console SSL 4000 E
bx_console SSL 4000 G
bx_subsynth
Pro Memembership
Watch all videos for$24.99 / month
Rich Keller
With 4 Grammy Award nominations, 29 Platinum albums, and over 75 million albums sold, it is no surprise that Rich has continued to be a first call mixer and producer for hip hop and R&B royalty like Snoop Dogg, DMX, Jay Z, Nipsey Hussle Alicia Keys, Swizz Beatz, Lil Wayne, Mariah Carey, Method Man, Rick Ross, and many many more.
Rich's career spans the breadth of hip hop since 1992, earning him official "OG" status.
Rich attended North Texas State University and the City College of New York where he studied jazz bass with legendary bassist Ron Carter.
Credits
DMX
P Diddy
Nas
Snoop Dog
The Lox
Method Man