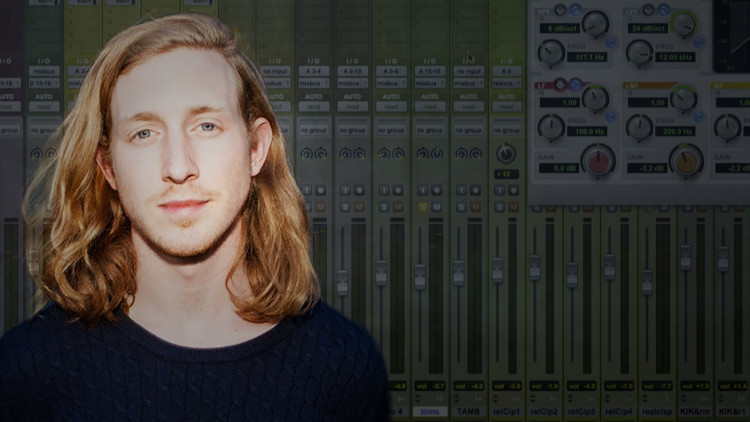 01h 40min
(35)
Engineer and producer Ryan West dissects his mix of Asher Roth's 'Tangerine Girl', from the album "RetroHash".
Learn step by step about the workflow and sonic decisions that combined to create Ryan's signature sound and a badass hip-hop mix.
In this video you will learn how to:
Get deep and hard hitting drum sounds
Clean up and manage competing bass frequencies
Make vocals sound in-your-face and spacious at the same time
Spice up background vocals
Create a killer master bus chain to sweeten and glue the whole mix together
Don't forget to download the stems, import them in your favorite DAW and practice using the same tracks Ryan used in this video!
Universal Audio: 1176LN, 1176AE, LA-2A, Cooper Time Cube, Lexicon 224, MXR Flanger/Chorus, SPL TwinTube Processor, Roland Dimension D, Dangerous BAX EQ, SSL G-Buss Compressor, Ampex ATR-102
Waves: C4, CLA-Guitars, H-Delay, C1 Gate, R-Verb, De-esser
SoundToys: Decapitator, Crystallizer, Devil-Loc
Avid: EQ3
Asher Roth - Tangerine Girl on iTunes or Spotify
Pro Memembership
Watch all videos for$24.99 / month
Ryan West
In addition to many Platinum, Gold and Diamond RIAA certifications, he's been twice nominated for the Album of the Year Grammy and has a further seven nominations to his credit as a mixing and recording engineer.
A skilled multi-instrumentalist and songwriter, Ryan also produces music for major label artists, film and television.
As of 2017, over 70 million albums have been sold worldwide that contain a credit to Ryan West. After moving to NYC from Youngstown, Ohio in 1997 he took a job at Sam Ash Music Store in Times Square where he began to buy recording equipment to record his own projects. A self-taught recordist, Ryan was approached by a music store client who needed help recording in his home. The client turned out to be an influential producer and A&R with Island Records. Over the following 12 months or so, he worked tirelessly to improve his abilities while recording Gospel artists like Dee Dee Warwick, Benjamin Love and others. At this time, Protools Digital audio Workstations were quickly gaining traction as the future of studio recording technology. From that early stage, Ryan developed an impressive level of speed and accuracy while recording and editing. He soon found out that those skills were exactly what the NYC hiphop community wanted and needed.
Taking the helm as chief engineer at the now defunct Soho Music Studios exposed him to top hip-hop artists and their production teams. For the next 4 years, he developed his skills as a recordist and mixer while he built relationships with artists and producers who were on their way to the top. One of those producers was Just "Just Blaze" Smith. Signing on with his management N.Q.C. Management in 2003, Ryan began a whirlwind of work with Blaze and some of the world's most successful artists and producers. He hasn't stopped working since.
Ryan helped forge the sound of hip-hop and rap music as we know it today by working with artists such as Eminem, Kanye West, Usher, Rihanna, Jay Z, Dr. Dre, Kid Cudi...
Credits
Eminem
Kanye West
Usher
Ritchie Havens
T.I.
Rihanna