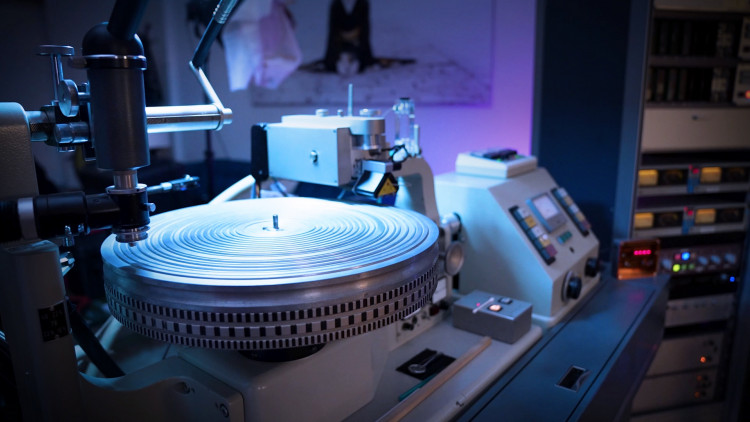 32min
(13)
The master is complete, and this is a track destined for a 7" vinyl record.
The Mastering Palace happens to have a scarce, perfectly functioning Neumann lathe in-house, with one of the top cutting engineers, Mark Santangelo, on staff.
With Dave's ready to go, Mark prepares the lathe to cut the perfect vinyl master of Jared Evan's "Light Shine Through."
See how Dave Kutch and Mark Santangelo:
Show their vintage Neumann Lathe and give an in-depth explanation of how it works
Breakdown the use of the pitch computer and how it saves space on the record
Discuss loudness and side length when cutting to vinyl
Explain how the grooves of a vinyl record work and why adjustments to the master are sometimes necessary
Explain the frequency limitations, which people describe as pleasing, that are inherent to vinyl records
Discuss how ess-ing translates on vinyl
Practice cutting the vinyl with a "dry run"
This is your chance to watch as a vinyl record is cut and learn about the considerations that go into creating the perfect master record for duplication.
Watch Dave Kutch and Mark Santangelo cut the vinyl for "Light Shine Through," only on puremix.net.
Hardware
Custom Georg Neumann VMS 70 Vinyl Lathe
Pro Memembership
Watch all videos for$24.99 / month
Dave Kutch
Owner of The Mastering Palace in New York, Dave Kutch began his music career at Tiki Recording Studios, Hit Factory, Masterdisk, and Sony Studios. Dave worked closely with Alicia Keys' engineer, Ann Mincieli, and producers, the Kerry Brothers, who got Kutch on board to master Keys' 2007 album 'As I Am' in an innovative fashion. Dave's career never ceased to increase working onsite at Keys' Oven Studios on Long Island and expanding an extensive list of luxurious clients. Dave has worked with artists like Dua Lipa, The Weeknd, Chance the Rapper, Justin Timberlake, Carly Rae Jepsen, Janelle Monáe, P!nk, Juanes, Blink-182, Lana Del Rey, Camila Cabello, XXXTentacion, Zac Brown Band, John Legend, Christina Aguilera, Cypress Hill, Future, Lupe Fiasco, Calvin Harris, Big Boi, H.E.R., Wyclef Jean, Mary J. Blige, A$AP Rocky, The Killers... the list goes on.
Credits
The Weeknd
Dua Lipa
Ozzy Osbourne
Cypress Hill
Christina Aguilera
Justin Timberlake