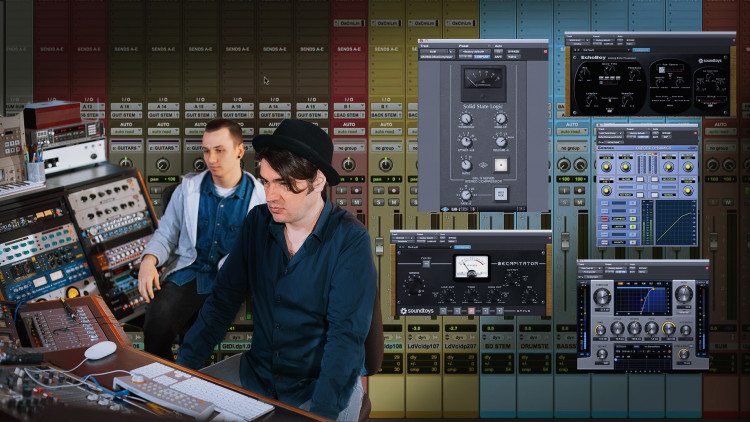 43min
(6)
In this Start to Finish video series, see how all of the pieces of the record making puzzle fit together.
Learn how Grammy winner Fab Dupont:
Produces
Tracks
Overdubs
Edits
Mixes
Recalls
Masters
With over 3.5 hours of non-stop teaching, this is your chance to observe not just the details that going into making a radio-ready record but also how an award winning producer keeps the "bigger picture" in focus and enhances the band's vision for the song.
This tutorial is a fountain of record making know-how and inspiration.
Get ready for tons of tips, tricks and methods that you can apply to your next recording session.
Producing:
Setting up and laying out the band in the studio to track together to capture a "live" feel
Mic choices and placement for drums, bass, guitar and vocals
Studio signal flow and patching
Making on-the-fly arrangement tweaking to give the song a solid pop structure
Double tracking guitars for a full and wide sound
Vocal harmonies and doubling
Mixing:
Vocal editing and comping that quickly finds the optimal takes for each moment of the song
Sonically transforming drum tracks recorded by himself from "pretty good" to a modern, punchy and aggressive drum sound
Using analog summing and stem mixing techniques for maximum depth and mix clarity
Adding reverb and delay effects to reinforce the vocal presence and give the mix some "sauce"
Blending together multiple guitar amps with an amp simulator to create a thick and present guitar tone
Dialing in the perfect vocal tone and compression for the genre
Mix bus equalization and compression as well as using the special analog 2-Bus+ processing
Automating the mix to bring out all of the special moments of the song
Listening and utilizing a reference mixes playlist
Using multiple drum crush buses to get the perfect amount of smack out of the kick and snare
Adding life to entire mix as a whole and piece by piece
Recalling:
After stepping away from the studio, Fab and Joey return with mix changes big and small
Enhancing the drums sound with a sample and a little extra EQ and automation
Tweaking the guitar mic blend
Refining the vocal sound with EQ and subtle Melodyne
Altering the equalization on the mix bus
Mastering:
How to take a song that's been mixed with a "mastered" sound in mind
Mastering signal flow and workflow
Metering and loudness
Matching the tone and vibe with the band's previous record
Making tweaks to the overall sonic shape and most importantly depth of the mix
Opening up the sides and cleaning up the guitar tone using mid-side EQ
Refine your listening skills with detailed "Listen For" exercises all along the way
This is an honest look at the WHOLE record making process, mistakes and all, so you can learn every step that goes into producing a modern rock song.
Even engineers and producers who don't make rock records will walk away with ideas and tricks they can bring from the rock world to their own music.
Don't forget, you can download the raw stems to the full song to hear the results of the tracking session and then try your hand at mixing and mastering the song!
Sonnox Oxford Limiter
Sonnox EQ & Filters
Sonnox Oxford Dynamics
Sonnox Oxford Inflator
Sonnox Oxford Supresser
SansAmp PSA-1
Soundtoys Decapitator
Soundtoys Echoboy
UA 1176LN
UA Neve 33609
UA Pultec Pro Legacy
UA Precision Maximizer
UA LA-2A
UA DBX 160
UA SSL Bus Compressor
UA EMT 140
UA Lexicon 224
UA Marshall Plexi Super Lead
Avid Dyn 3 Expander / Gate
Avid Pro Expander
Blue Cat's DP Meter Pro 4
UA Brainworx Digial V3
UA Dangerous BAX EQ
Pro Memembership
Watch all videos for$24.99 / month
Fab Dupont
Fab Dupont is an award-winning NYC based record producer, mixing/mastering engineer and co-founder of pureMix.net.
Fab has been playing, writing, producing and mixing music both live and in studios all over the world. He's worked in cities like Paris, Boston, Brussels, Stockholm, London and New York just to name a few.
He has his own studio called FLUX Studios in the East Village of New York City.
Fab has received many accolades around the world, including wins at the Victoires de la Musique, South African Music awards, Pan African Music Awards, US independent music awards. He also has received Latin Grammy nominations and has worked on many Latin Grammy and Grammy-nominated albums.
Credits
David Crosby
Queen Latifah
Jennifer Lopez
Mark Ronson
Les Nubians
Toots And The Maytals
Featured Artists and Musics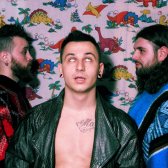 Dry Clean Only
Dry Clean Only started as any other punk, misfit, freak, little trio would start a band...in a garage. The band has been together since the summer of 2005. Founding member Joey Wunsch, Ronnie Bruno, and Connor McClelland make up the pop-punk trio. Over the years the band started out playing block parties, house parties and school dances. As things progressed the band began to play at different venues throughout New York City as well as out of state shows. Notable venues include Webster Hall, The Knitting Factory, Santo's Party House, The Bitter End, Bowery Electric, Yonkers Skate Park, Mexicali Live (NJ), The Space (CT). In 2011 the band released a three track demo titled 'Ladies Love My Neckbeard'. In 2013 the band released a self titled EP titled 'Swamp Donkey'. In 2015 the band released a ten track album titled 'Dumbfounded'. In 2016 the band released a single/video titled 'Big Sad Clown'. The band has opened for national acts including Wheatus, Andrew W.K., and Hawthorne Heights. Nobody knows what the future will hold, but the band continues to write and release new music.

?>