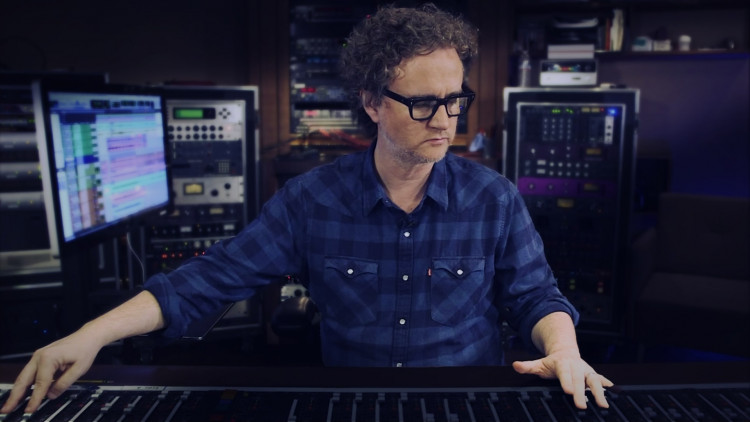 02h 09min
(100)
With the entire production complete, the time has finally come for Greg Wells to pull up the multitrack for Bryce Drew's "Lucky Number" on the gorgeous, Sunset Sound Custom Discrete Console, loaded with API 550-A EQs on every channel.
Watch as Greg:
Sets up a Hybrid workflow with both plugins and outboard gear
Tries out a Custom Warner Brother EQ on the stereo bus
Sets up a parallel bus with an outboard Neve 33609
Uses an outboard 1176 as a parallel vocal compressor
Creates an incredible stereo bus path using a Chandler Curve Bender and SSL style bus compressor
Sends everything to a Chandler Zener Limiter as a parallel bus, adding a whole new dimension to the mix.
Uses Neve Flying Fader Automation
Explains how he works in mono
Discusses lead vocal automation
Shares multiple stories from his career of working with other engineers and vital pieces of information he has learned over the years
Now that you have seen Greg and Bryce create an entire song from scratch through to a final mix, it is your turn to download the multitrack and sit in Greg's chair to mix the song for yourself, in its entirety!
Watch the rest of the series here.
Software
Fab Filter DS
Fab Filter Pro-Q2
Focusrite d2 6-Band
Sound Toys Little Plate
UAD Shadow Hills Mastering Compressor
Valhalla Plate
Hardware
API 550 EQ
Chandler Limited Zener Limiter
Chandler Limiter Curve Bender
Neve 33609
Universal Audio 1176LN
Pro Memembership
Watch all videos for$24.99 / month
Greg Wells
Grammy award-winning, Canadian musician, songwriter, and record producer, Greg Wells, has been dubbed "A Swiss Army Knife" in the recording studio by the legendary Stewart Copeland for good reason.
As a multi-instrumentalist, he has the ability to artfully mold his productions with incredible precision, craftsmanship, and most importantly, taste. Combining his musicianship with his uncanny abilities as a producer, engineer, and mixer, he has seen album sales top 120 million, with streaming numbers in the billions. With a B.
His diverse list of credits includes superstars such as Adele, Dua Lipa, Twenty One Pilots, Katy Perry, Keith Urban, Celine Dion, Deftones, Kid Cudi, Weezer, OneRepublic, Ariana Grande, Pharrell Williams, Aerosmith and so many more that we would need a really long scroll bar to list them all. 
Greg has seen monumental success recently with the release of the motion picture soundtrack for "The Greatest Showman", which he not only produced but played on as well.
Credits
The Greatest Showman
Adele
Katy Perry
Twenty One Pilots
Grace VanderWaal
Dua Lipa