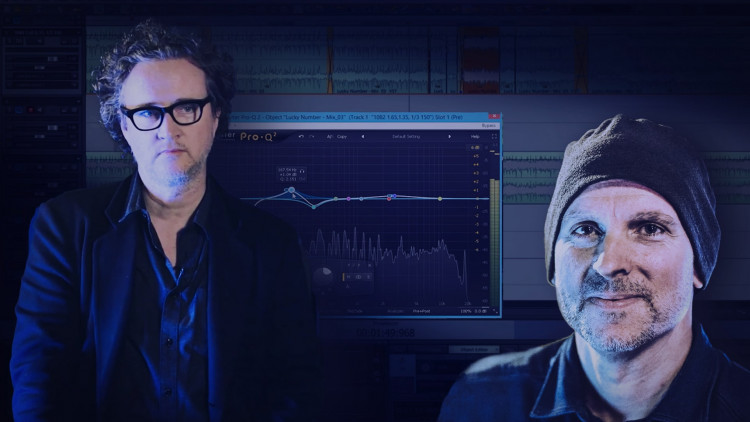 53min
(56)
Since episode one, we have seen Greg and Bryce create a perfectly crafted song, powerful arrangement, and energetic, artfully sculpted mix.
In part 1 of the conclusion to Greg Wells Start To Finish Series, Greg takes the final mix of Bryce Drew's "Lucky Number" to Magic Garden Mastering to work with world-renowned mastering engineer, Brian Lucey, to take the incredible mix he did on the console in Studio A of Sunset Sound to the next level.
Watch as Brian and Greg:
Discuss the production and history of the song
Break down their mastering workflow on productions they have worked on like The Greatest Showman, Cats, and many more.
Explain Brian's mastering chain
Uses Mid/Side compression to control peaks and open up the mix
Show their technique for enhancing a mix done in the analog domain where recall is not possible, and they still want to enhance elements in the mix.
Discuss the importance of musicality in engineers and producers to communicate in the production process and ultimately convey the artist's vision.
Use mastering techniques to keep the energy building throughout the production
Tweak the lead vocal sound, just from the stereo mix.
This is your chance to see what an attended mastering session looks like with two of the world's most highly regarded music creators, in real-time.
Watch the rest of the series here.
Hardware
Mytek 8x192 DA
Focusrite Blue 315 MkII
Elysia Alpha
Fairman TMEQ
Pacific Microsonics AD
Waves L2 Limiter
Crane Song HEDD
Bricasti M1
Software
Sequoia
Fab Filter Pro-C2
Fab Filter Pro-Q2
Pro Memembership
Watch all videos for$24.99 / month
Greg Wells
Grammy award-winning, Canadian musician, songwriter, and record producer, Greg Wells, has been dubbed "A Swiss Army Knife" in the recording studio by the legendary Stewart Copeland for good reason.
As a multi-instrumentalist, he has the ability to artfully mold his productions with incredible precision, craftsmanship, and most importantly, taste. Combining his musicianship with his uncanny abilities as a producer, engineer, and mixer, he has seen album sales top 120 million, with streaming numbers in the billions. With a B.
His diverse list of credits includes superstars such as Adele, Dua Lipa, Twenty One Pilots, Katy Perry, Keith Urban, Celine Dion, Deftones, Kid Cudi, Weezer, OneRepublic, Ariana Grande, Pharrell Williams, Aerosmith and so many more that we would need a really long scroll bar to list them all. 
Greg has seen monumental success recently with the release of the motion picture soundtrack for "The Greatest Showman", which he not only produced but played on as well.
Credits
The Greatest Showman
Adele
Katy Perry
Twenty One Pilots
Grace VanderWaal
Dua Lipa