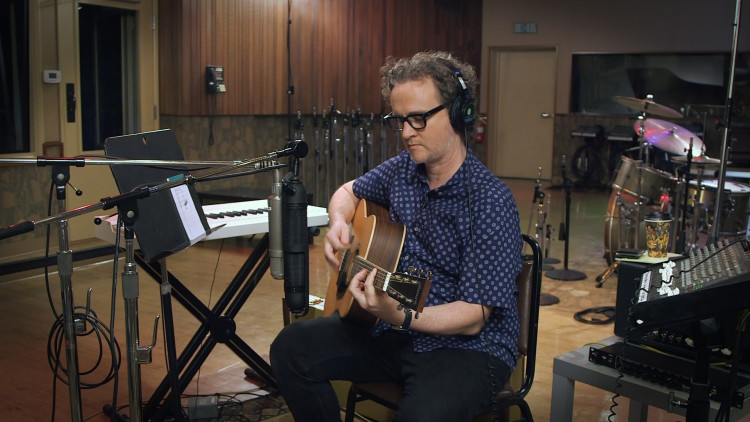 01h 29min
(50)
Now that Bryce has laid down a version of the vocal for "Lucky Number," the duo continues to build the track by adding acoustic guitar and re-recording the piano to prepare a firm foundation for what is to come.
Before sending Bryce into the live room, Greg takes the time to make sure that the mix they are listening to sounds inspiring and provides a vision for them to work toward.
In this episode, you'll watch as Greg:
Tweaks the mix to sound great during the tracking process
Further explains vocal compression and his perception of what role the lead vocal plays
Tunes the acoustic guitar to the part to be played in the song
Combines an AEA R88 and Neumann U47 and works on the phase relationship
Helps Bryce dial in her headphones to lock into a groove
Edits the acoustic guitar performance to create the perfect pocket for what comes next in the track
EQs and Compresses the acoustic guitar to sit in the track
Tunes the scratch vocal and gets the mix to an inspiring point before continuing the production
Re-records the piano track to fit around the new performance of the acoustic guitar and where he sees the rest of the track going
Edits the new piano track to sit in the pocket
Watch the rest of the series here
Mics
Software
Antares Auto-Tune
Avid EQ3
Fab Filter Pro-DS
Fab Filter Pro-Q2
Focusrite d3 Compressor
UAD 1176 AE
UAD Harrison 32G SE EQ
UAD Lexicon 224
UAD Neve 33609
Pro Memembership
Watch all videos for$24.99 / month
Greg Wells
Grammy award-winning, Canadian musician, songwriter, and record producer, Greg Wells, has been dubbed "A Swiss Army Knife" in the recording studio by the legendary Stewart Copeland for good reason.
As a multi-instrumentalist, he has the ability to artfully mold his productions with incredible precision, craftsmanship, and most importantly, taste. Combining his musicianship with his uncanny abilities as a producer, engineer, and mixer, he has seen album sales top 120 million, with streaming numbers in the billions. With a B.
His diverse list of credits includes superstars such as Adele, Dua Lipa, Twenty One Pilots, Katy Perry, Keith Urban, Celine Dion, Deftones, Kid Cudi, Weezer, OneRepublic, Ariana Grande, Pharrell Williams, Aerosmith and so many more that we would need a really long scroll bar to list them all. 
Greg has seen monumental success recently with the release of the motion picture soundtrack for "The Greatest Showman", which he not only produced but played on as well.
Credits
The Greatest Showman
Adele
Katy Perry
Twenty One Pilots
Grace VanderWaal
Dua Lipa