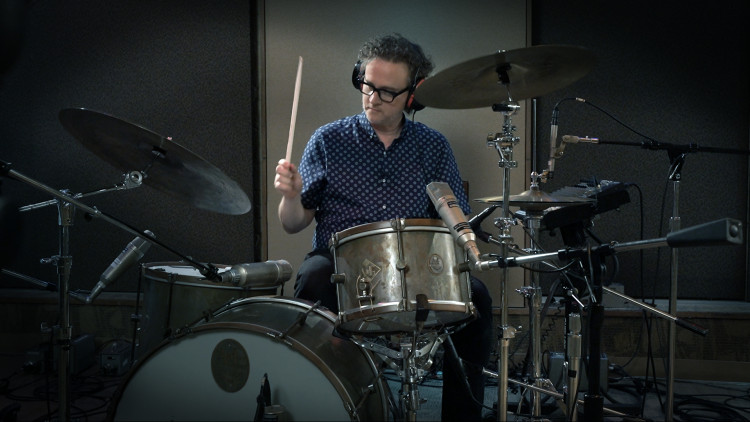 01h 32min
(52)
In Episode Five, Greg Wells sits at the drum kit in the live room of Sunset Sound's legendary Studio A to lay down a powerful drum track for Bryce Drew's song "Lucky Number"
Watch as Sunset Sound Engineer, Zach Zajdel:
Chooses microphones
Goes over microphone placement and setup
Dials in the initial drum sounds
Checks phase relationships between microphones
Positions stereo sets of microphones to reflect the stereo image of the kit
Then, watch as Greg:
Reviews and adjusts the drum sounds to taste
Compresses and EQs the mono kit microphone
Performs the drum track
Uses beat detective to edit the drum performance
Uses parallel compression and EQ to make the side stick and snare drum sound larger than life
Times a specific snare reverb for the bridge
Watch the rest of the series here
Mics
AEA R88
AKG 451
AKG D112
Neumann U47 FET
Neumann U67
Shure SM57
Telefunken 251
Audio Ease Altiverb
Fabfilter Pro-G
Fabfilter Pro-Q2
Focusrite d3
Soundtoys Devil-Loc
UAD API 560
UAD Distressor
UAD EQP-1A
UAD Fairchild 660
UAD LA-2A
Pro Memembership
Watch all videos for$24.99 / month
Greg Wells
Grammy award-winning, Canadian musician, songwriter, and record producer, Greg Wells, has been dubbed "A Swiss Army Knife" in the recording studio by the legendary Stewart Copeland for good reason.
As a multi-instrumentalist, he has the ability to artfully mold his productions with incredible precision, craftsmanship, and most importantly, taste. Combining his musicianship with his uncanny abilities as a producer, engineer, and mixer, he has seen album sales top 120 million, with streaming numbers in the billions. With a B.
His diverse list of credits includes superstars such as Adele, Dua Lipa, Twenty One Pilots, Katy Perry, Keith Urban, Celine Dion, Deftones, Kid Cudi, Weezer, OneRepublic, Ariana Grande, Pharrell Williams, Aerosmith and so many more that we would need a really long scroll bar to list them all. 
Greg has seen monumental success recently with the release of the motion picture soundtrack for "The Greatest Showman", which he not only produced but played on as well.
Credits
The Greatest Showman
Adele
Katy Perry
Twenty One Pilots
Grace VanderWaal
Dua Lipa