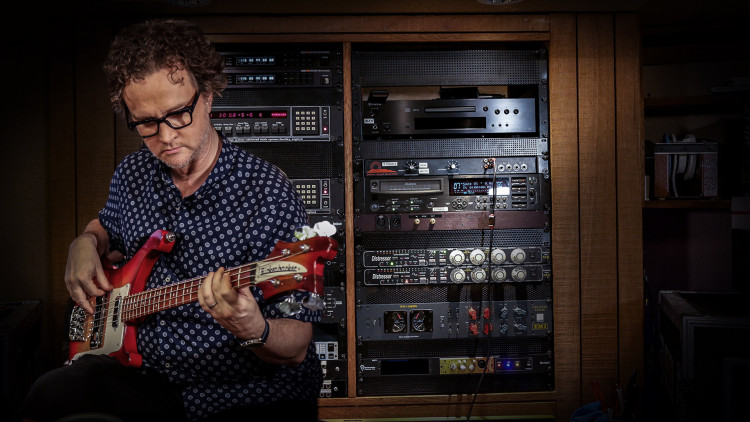 20min
(51)
The pulse of every song exists in the bed laid down by the rhythm section, and no rhythm section is complete without the melodic and rhythmic contribution of the bass player.
In this episode of Greg Well's Start To Finish Series, he composes, records and edits the bass guitar line to add rhythmic and melodic movement to Bryce Drew's song "Lucky Number."
After completing the bass track, Greg recaps Day 2 at Sunset Sound and prepares for the third and final day.
Watch as Greg:
Explains his use of a Sans Amp RB1 to create the perfect bass tone
Composes an energetic and melodic bass line on camera
Performs the bass part
Edits the bass performance down

Watch the rest of the series here.
Pro Memembership
Watch all videos for$24.99 / month
Greg Wells
Grammy award-winning, Canadian musician, songwriter, and record producer, Greg Wells, has been dubbed "A Swiss Army Knife" in the recording studio by the legendary Stewart Copeland for good reason.
As a multi-instrumentalist, he has the ability to artfully mold his productions with incredible precision, craftsmanship, and most importantly, taste. Combining his musicianship with his uncanny abilities as a producer, engineer, and mixer, he has seen album sales top 120 million, with streaming numbers in the billions. With a B.
His diverse list of credits includes superstars such as Adele, Dua Lipa, Twenty One Pilots, Katy Perry, Keith Urban, Celine Dion, Deftones, Kid Cudi, Weezer, OneRepublic, Ariana Grande, Pharrell Williams, Aerosmith and so many more that we would need a really long scroll bar to list them all. 
Greg has seen monumental success recently with the release of the motion picture soundtrack for "The Greatest Showman", which he not only produced but played on as well.
Credits
The Greatest Showman
Adele
Katy Perry
Twenty One Pilots
Grace VanderWaal
Dua Lipa