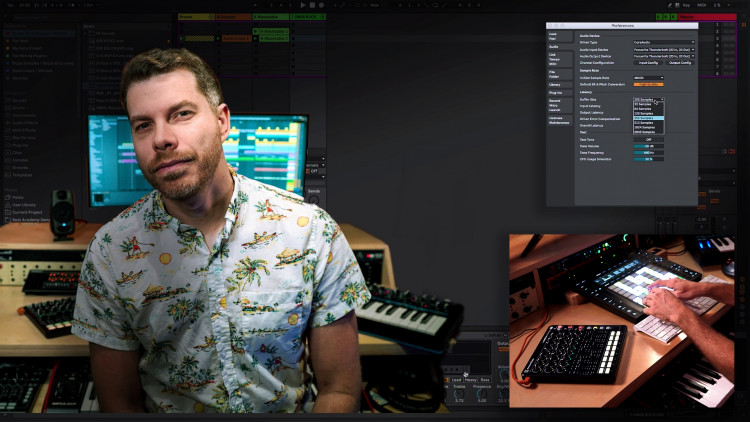 39min
(29)
When playing an instrument or singing without computers, creativity moves at the speed of light. ill Factor knows he doesn't want to hinder his creative flow at any point and has made his room flexible enough to stay out of his way during the creation process.
In episode 1 of this pureMix.net exclusive Start To Finish Series featuring ill Factor, Jared Evan, Jimmy Douglass, and Dave Kutch ill Factor introduces us to his efficient studio setup while giving an in-depth breakdown of Ableton Live that will inspire the uninitiated and even show a few new tricks to Ableton Live experts.
Watch as ill Factor:
Breaks down his entire studio setup from the desk to the microphone
Explains his backstory of how he ended up using Ableton Live
Gives a complete in-depth walkthrough of the Ableton Live interface
Shows his creative workflow that allows him to sketch ideas in moments
Demonstrates how he uses the Ableton Push to speed up his workflow
Uses scale and note mode on the Ableton Push to inspire new ideas
Shows how to use collections to organize your plug-ins, samples, instruments, and more for lightning-fast navigation
Explains how to record audio into Ableton
Find out more about ill Factor's Beatacademy
Hardware
Ableton Live Push 2
Dangerous Music D-BOX+
Focusrite Clarett 8pre
Novation Bass Station
Novation Impulse 49
Novation Launch Control XL
Warm Audio WA 73 EQ
Warm Audio WA 76 Compressor
Ableton Live Stock Plug-ins
Amp
Analog
Auto Filter
Delay
Echo
Hybrid Reverb
Overdrive
3rd Party Plugins
Pro Memembership
Watch all videos for$24.99 / month
ill Factor
Ivan Corraliza, professionally known as ill Factor, began creating music where most everyone begins, in the bedroom fueled by ambition and a dream to turn his hobby into a full-time job. Countless hours of music-making and tweaking led to some moments of frustration while trying to get his music noticed. However, everything changed when Ivan sought out a mentor and was blessed to be taken under the wing of Jimmy Douglass. Jimmy is a veteran in the music industry with more than forty-plus years of experience working with artists from Aretha Franklin to Justin Timberlake. He began sharing his network and insights into the Industry with Ivan, which helped Ivan create relationships with artists and industry professionals, turning his hobby of making music into a career.
Credits
Assassins Creed Syndicate
Gwen Stefani
Kelly Rowland
Jessie J