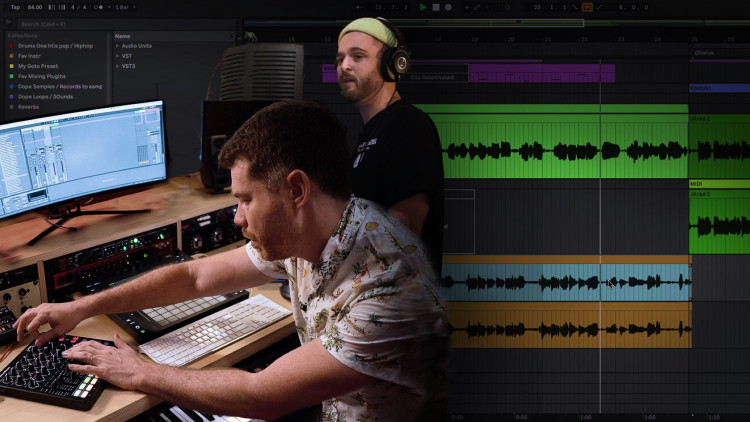 27min
(11)
After taking the night off and getting some well-deserved rest, ill Factor and Jared head back into the studio to review some ideas Jared put together in the hotel room and continue building the song.
See how ill Factor and Jared Evan:
Take turns on the microphone putting down ideas while crafting the top line of the song
Layer a vocoder onto the hook idea for inspiration
Discuss using different vocal rhythms to drive the energy of the song forward
Write a placeholder bridge for the song
Complete the skeleton of the song so that Jared can begin writing lyrics
Watch ill Factor, produce "Light Shine Through" from Jared Evan. Only on pureMix.net
Hardware
Ableton Live Push 2
Dangerous Music D-BOX+
Focusrite Clarett 8pre
Novation Bass Station
Novation Impulse 49
Novation Launch Control XL
Warm Audio WA 73 EQ
Warm Audio WA 76 Compressor
Ableton Live Stock Plug-ins
Amp
Analog
Auto Filter
Chorus-Ensemble
Compressor
Delay
Drum Buss
Echo
EQ 8
Hybrid Reverb
Overdrive
Pedal
Redux
Reverb
3rd Party Plugins
Arcade by Output
FabFilter Pro Q
iZotope Vocal Synth 2
Nicky Romero Kickstart
Modo Bass
Native Instruments Kontakt
Roland Zenology
Waves Tune Real Time
XLN Audio Additive Keys
RC-20 Retro Color
XLN Audio XO
Pro Memembership
Watch all videos for$24.99 / month
ill Factor
Ivan Corraliza, professionally known as ill Factor, began creating music where most everyone begins, in the bedroom fueled by ambition and a dream to turn his hobby into a full-time job. Countless hours of music-making and tweaking led to some moments of frustration while trying to get his music noticed. However, everything changed when Ivan sought out a mentor and was blessed to be taken under the wing of Jimmy Douglass. Jimmy is a veteran in the music industry with more than forty-plus years of experience working with artists from Aretha Franklin to Justin Timberlake. He began sharing his network and insights into the Industry with Ivan, which helped Ivan create relationships with artists and industry professionals, turning his hobby of making music into a career.
Credits
Assassins Creed Syndicate
Gwen Stefani
Kelly Rowland
Jessie J