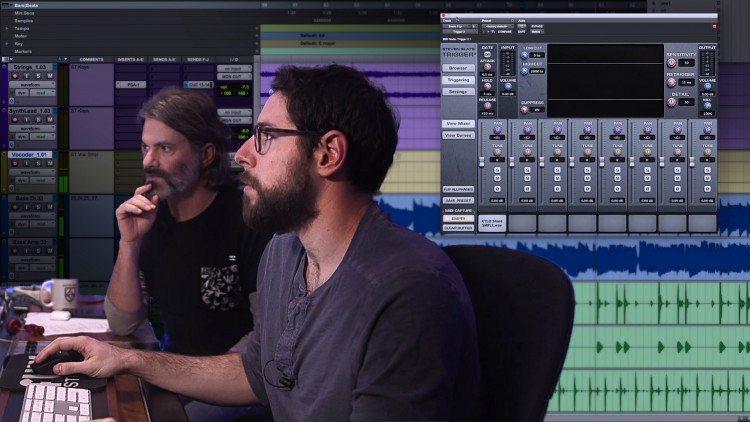 24min
(12)
While Kolton Lee is over in the Fabulous Room doing the final touches on the vocals for "Keep The Light On," Jacquire and Danny Pellegrini complete the editing for the instrumental tracks and augment the drums with the samples they recorded from Bryan's kit.
Watch as Jacquire and Danny:
Clean up the release of the Juno pads in the pre-chorus
Check polarity on the electronic samples, and replace where needed
Create custom samples from the recording of Bryan's kit and load them into Slate Digital's Trigger plugin
See how Kolton:
Imports the vocal work he did in the Fabulous Room to Jacquire and Danny's latest version of the session
Dials in the vocoder tracks with the latest editing and tuning
Renders different chords with the vocoder to match the harmonic structure of the song
This is a chance to see the extra bit of polish that world-renowned producer and mixing engineer, Jacquire King, adds to his productions before entering the mixing stage.
Software
Avid Pro Tools
Steven Slate Trigger
UAD Softube Vocoder
Pro Memembership
Watch all videos for$24.99 / month
Jacquire King
Award-winning Producer, Engineer, and Mixer, Jacquire King, has worked with some of the world's most influential artists in every role you can imagine in a recording studio. From being an acclaimed recordist to mixing and producing multi-platinum records (9X in the case of Kings Of Leon) by superstars like Kaleo, Modest Mouse, Kings of Leon, Tom Waits, Norah Jones, Buddy Guy, Cold War Kids, MuteMath, Melissa Etheridge, and James Bay.
To date, Jacquire has received several awards for his meticulous attention to detail and unique approach to creating records that withstand the test of time.
His discography is well-known for the variety of music encompassed from the past 20 years. When you see Jacquire's tutorials on pureMix, you will have the chance to sit next to a true master at work, who strives to enhance the artist's vision and serve the songs he helps deliver to the masses.
Credits
Kings of Leon
Tom Waits
James Bay
Modest Mouse
Buddy Guy
Norah Jones