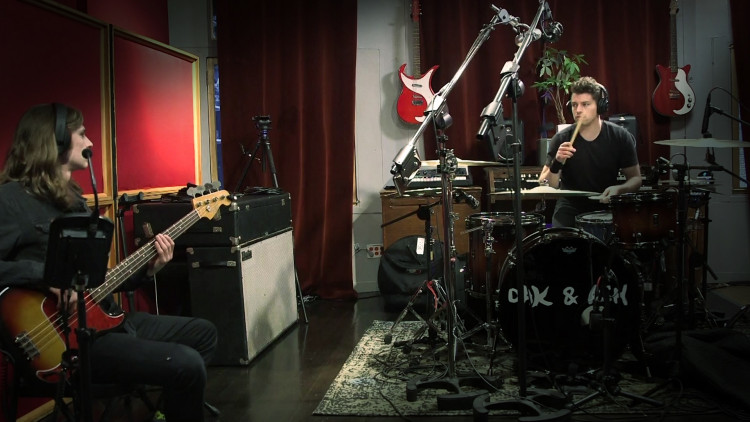 32min
(22)
The sounds are dialed in, and the band is ready to get some takes recorded live off of the floor Watch as Rich, Bryan, Paul, and Chris head into the Dangerous Room at Flux Studios to cut the live tracks for "Keep The Light On."
See how Jacquire King:
Produces the tracks live off of the floor
Addresses his first reactions to the band playing together
Works out arrangement options for stops and fills to transition between sections
Has his assistant, Danny Pellegrini, help tune the snare drum to the key of the song using his perfect pitch skills
Adjusts the microphone position on the snare drum to get a brighter attack, as well as an adjustment for more body
Revisits the kick drum EQ choices and explains the effect of pushing more into the Neve module
Uses a Radial SGI to decrease noise on the bass amp
Adjusts the bass amplifier settings to compliment the kick drum
Watch Jacquire King produce "Keep The Light On" from Oak & Ash from Start To Finish only on pureMix.net
Find all episodes here!
Hardware
1974 Custom Neve Console
GML EQ
Distressor
Ampeg SVT-7PRO
Ibanex Tube Screamer
Pro Memembership
Watch all videos for$24.99 / month
Jacquire King
Award-winning Producer, Engineer, and Mixer, Jacquire King, has worked with some of the world's most influential artists in every role you can imagine in a recording studio. From being an acclaimed recordist to mixing and producing multi-platinum records (9X in the case of Kings Of Leon) by superstars like Kaleo, Modest Mouse, Kings of Leon, Tom Waits, Norah Jones, Buddy Guy, Cold War Kids, MuteMath, Melissa Etheridge, and James Bay.
To date, Jacquire has received several awards for his meticulous attention to detail and unique approach to creating records that withstand the test of time.
His discography is well-known for the variety of music encompassed from the past 20 years. When you see Jacquire's tutorials on pureMix, you will have the chance to sit next to a true master at work, who strives to enhance the artist's vision and serve the songs he helps deliver to the masses.
Credits
Kings of Leon
Tom Waits
James Bay
Modest Mouse
Buddy Guy
Norah Jones